This article is more than 1 year old
Hubble snaps fall-out from Jupiter impact
Impressive debut for Wide Field Camera 3
The Hubble Space Telescope has turned its new Wide Field Camera 3 on the aftermath of the 19 July collision between the gas giant and an unidentified object: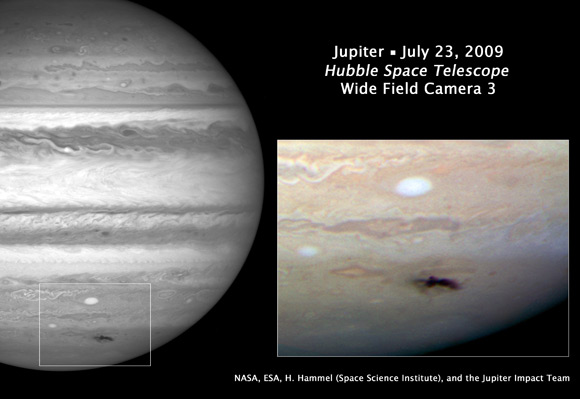 NASA describes the image as the "sharpest visible-light picture yet" of the atmospheric debris from the prang, first spotted by amateur Oz astronomer Anthony Wesley and subsequently captured in the infrared by the Keck Observatory in Hawaii.
The agency is suitably chuffed with this first science observation from its new camera, installed during space shuttle Atlantis's STS-125 mission back in May. Although the instrument is not yet fully calibrated, Heidi Hammel of the Space Science Institute in Boulder, Colorado, which made the observation, enthused: "Hubble's truly exquisite imaging capability has revealed an astonishing wealth of detail in the impact site.
"By combining these images with our ground-based data at other wavelengths, our Hubble data will allow a comprehensive understanding of exactly what is happening to the impact debris."
Aficionados of proper units of measurement will be delighted to learn that Amy Simon-Miller of NASA's Goddard Space Flight Center estimated the size of the impacting object as "the size of several football fields", and the force of the blast as "thousands of times more powerful than the suspected comet or asteroid that exploded over the Siberian Tunguska River Valley in June 1908".
NASA's breathless press release is here, and there's a big version of the above pic right here. ®