Updated Details could undermine Microsoft's proposal to let Windows users pick their browser, the company's effort to keep Internet Explorer on the right side of European Union regulatory law.
Speaking with TechFlash, Opera Software CTO Hakon Wium Lie has questioned the use of the famous IE icon in a ballot screen Microsoft said it's willing to include in Windows.
Meanwhile, Lie has told told Computerworld he would like to see Windows users worldwide given the ability to pick the browser they want.
The ballot screen - detailed as part of a settlement package Friday by Microsoft - would let users pick from a list of browsers when they install Windows. The screen would come with Windows 7 and could be downloaded via software update to Windows XP and Windows Vista. When a user clicks the browser they want, it would take them to the download site.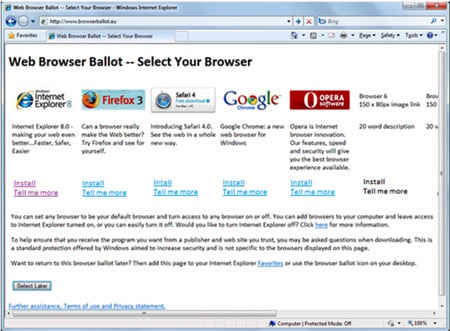 Spot IE: Microsoft's proposed Windows ballot screen for browsers
Lie has reportly said that the use of icons in the ballot screen could result in a natural bias towards IE. The sticking point could be that the IE logo has become synonymous with Windows.
"The blue 'e' has become so associated with the Internet in general, due to the bundling with Windows. We think using the blue 'e' might not be such a good idea," told TechFlash.
But Lie is apparently pleased with Microsoft's proposal. In the reading-between-the-lines world of EU-antitrust politics, that could be an early sign of settlement.
It was Opera that brought the original complaint against Microsoft to the EU, over integration of IE with Windows, and it has been outspoken on the latest version of IE and Windows: IE 8 and the up-coming Windows 7.
The EU, meanwhile, which in its preliminary findings found integration of IE and Windows broke anti-trust law earlier this year, said it "welcomed" Microsoft's proposal. ®
This article has been updated to include Lie's comments in Computerworld on the ability to pick browsers worldwide.
Similar topics