Samsung R522
Lo-Fi Wi-Fi budget laptop
Review When conjuring up budget laptops for the mass market, manufacturers will usually do their level best to make them look more expensive than they actually are, and the R522 from Samsung is no different.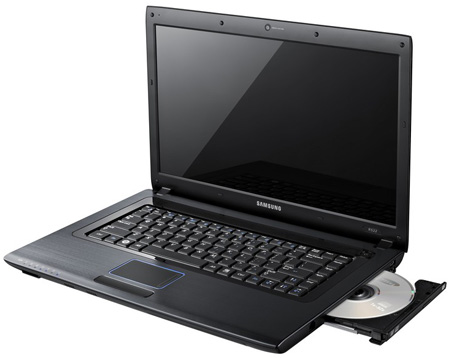 Samsung's R522: 802.11n not welcome
There's nothing particularly special about the innards – Intel Core 2 Duo, 4GB of DDR2 memory and Intel GMA 4500MHD integrated graphics – but open up the glossy, soon-to-be-fingerprint-festooned lid and you're presented with what looks like an impressive brushed-aluminium wrist rest. Get a little closer, though, and it soon becomes apparent that it is, in fact, just plastic dressed up to look like metal.
In another attempt to jazz things up, Samsung has furnished the perimeter of the trackpad with a soft-blue light. Is it useful? Well, no, not really. You certainly don't need a landing light for your finger when using the trackpad in the dark, but it does look kind of funky.
After 30 seconds, this light quietly turns itself off, but those who aren't fans will be disappointed there's no option to kill it off permanently. Samsung has done a good job with the left and right buttons sat beneath the trackpad, though. Taking the form of a single rocker bar, they exhibit just about the right amount of resistance and respond with a nice, solid 'click'.
The company has done a reasonable job with the keyboard too. It's similar to the 'chiclet' style as found on MacBooks, but it's a much cheaper version and the keys don't poke up through individual slots in the chassis. Although we weren't too impressed with the rattle emitted by the keys and their slippery nature, there's almost zero flex and each key has a decent amount of travel.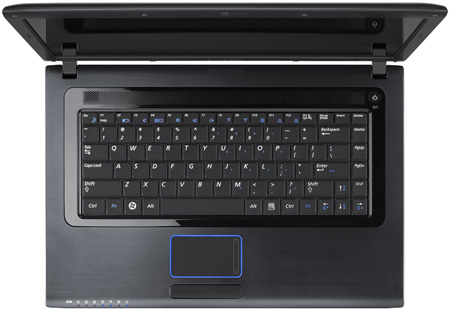 You won't forget where the trackpad is
Movie-style 16:9 aspect ratio screens seem to be in vogue at the moment and – with a native resolution of 1366 x 768 – that's exactly what you get with the 15.6in display on the R522. Samsung has given it what it calls the SuperBright treatment, which basically means it's glossy, not matte. It's also LED backlit, so it's not only dazzlingly bright, but also less of a drain on the battery.