Review The Selphy CP780 is a tiny personal photo printer for producing lab-quality 6 x 4in prints. At just 176 x 132 x 75mm it can sit unobtrusively on a shelf or at the back of a drawer, ready to be brought out quickly for those occasions when you want an ad-hoc hardcopy of a photo you have taken with your digital camera.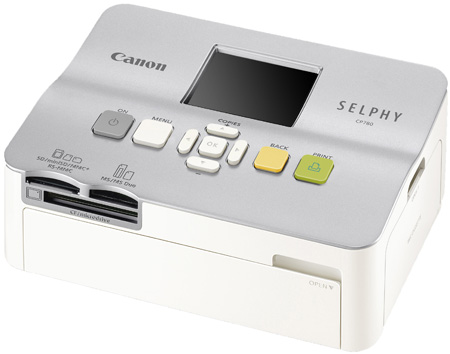 Canon's Selphy CP780
Canon has resisted the urge to make the device cute at the expense of functionality, so it remains relatively plain, compact and rectangular. We tested the silver version; the white version would have been plainer still. If you want cuteness, buy the pink or blue versions.
Unfortunately, the impression of compact tidiness is destroyed when you plug in the power cable at the back and a USB cable at the side, leaving cables trailing in two directions across the table. Putting the two inputs together would have made the device appear classier.
A plastic paper cassette slots into the front of the unit, with a hinged flap on top acting as the output tray. The cassette is designed to hold any of a range of Canon-branded media including 6 x 4in photo cards, 100 x 200mm wide-format photo cards, and various sizes of stickers.
Embarrassingly enough, we spent several minutes trying to work out how to assemble the paper cassette parts, which were packaged separately, and it took some thought before we realised how the cassette was supposed to fit into the printer.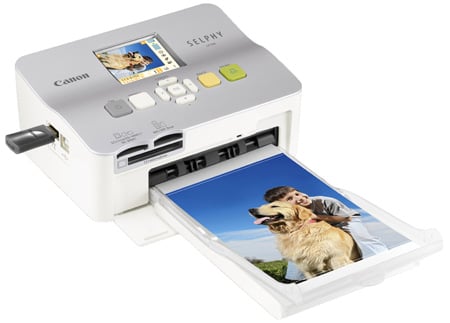 The optional Bluetooth adapter, shown here, is unnecessarily expensive at £40.
Canon might think the Selphy CP780 is perfectly intuitive but we think a little 'getting started' sheet would have been helpful here. There are little setup diagrams on one of the parts (the cassette lid, as it turns out) but they don't make any sense until you have already put everything together. Yes, yes, it seems obvious *now*, but it didn't at the time.
Sponsored: Webcast: Simplify data protection on AWS