P2P Judge: File sharing ain't fair use
Slams Merry Pranksters for spongy defence
---
In a damning indictment of the competence of Harvard Law School's Berkman Centre, a Judge has thrown out the main defence argument of P2P file sharer Joel Tenenbaum before the trial has even begun.
What's noteworthy here is that Judge Nancy Gertner is an activist liberal judge and blogger who is openly hostile to record company infringement lawsuits. Gertner practically begged Tenenbaum's team to make a stronger case. However, because Nesson's Merry Pranksters failed to argue that non-commercial file sharing is fair use, even ignoring situations where she may have considered it, she agreed to the plaintiff's pre-trial motion to dismiss the arguments.
Tenenbaum is accused by the major record companies of sharing some 800 songs over four years on P2P networks. To the rescue - if you can call it that - in stepped the founder of the Berkman Center, the techno-utopian think tank that's attached to Harvard Law School, Charlie Nesson. Nesson and Berkman, with a team of students, threw their muscle behind Tenenbaum hoping to put the major record labels on trial.
But to the great dismay of veteran anti-RIAA campaigners, it's backfired spectacularly.
Charlie Nesson's defence of the former student has been compared to "performance art", with Nesson glorying in the role of crazed eccentric. Nesson's methods have included publishing private conversations from friends (including Lawrence Lessig and his own wife), taping the other attorneys without their permission, and posting copyrighted MP3s to the web. Much of this has been wrapped in Nesson's own stoneriffic free verse, and laid out on his blog.
A highlight included posting this piece of user-generated content to the web: Plaintiffs gleefully offered it to the court.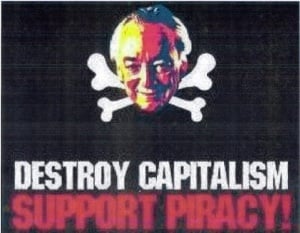 Nesson decided to defend Tenenbaum by arguing that P2P file sharing could be considered a lawful "fair use" exemption to the Copyright Act. On Monday, Gertner dismissed the argument.
"Fair use is now completely gone from the case, and with it Tenenbaum's primary defense to the labels' claims that he downloaded and "shared" 30 songs," notes Ben Sheffner, who is covering the case courtside on his blog. "While the court suggests in its order that some of the evidence related to fair use may still come in to mitigate damages, the jury will not be permitted to consider fair use itself."
Gertner points out the burden of proof for identifying disputed facts is on the defence. Citing an earlier case (but in words she thought were appropriate), this "requires hard proof rather than spongy rhetoric".
"In the end, fair use is not a referendum on fairness in the abstract, as the Defendant would have it, but an effort to measure the purpose and effects of his particular use against the incentives for artistic and literary creation that Congress established in the Copyright Act."
But again, Tenenbaum's team offered nothing to support their argument.
The Judge said she might have considered a few cases of fair use. She said the last ten years have thrown "a number of norms into disarray, offering suddenaccess to a wealth of digitized media and giving the veneer of privacy or anonymity to acts that had public consequences."
Tenenbaum hadn't used the files to create another work of art, for example, or owned the songs in another format already, or destroyed them once they'd been downloaded and played.
"The only fair use factor on which the Defendant raises a serious factual challenge is the effect of his file-sharing on the potential market for or value of the copyrighted works... in which he argues that file-sharing has not diminished the record companies' revenues nor curtailed overall artistic creation.
"But here again, Tenenbaum has put no facts into evidence on which the Court could rely. His opposition briefs are not accompanied by any affidavit, expert report, deposition testimony, or other evidence."
Just as Nesson's friends had advised, the Judge concluded that "he proposes a fair use defense so broad that it would swallow the copyright protections that Congress has created."
And while Judge Gertner is considered an activist Judge, she isn't so active she can repeal the law single-handed.
Alas the entertainment provided by Nesson won't last - the trial is expected to be wrapped up this week. Here's Sheffner's report. ®
Bootnote
Yesterday Nesson promised to introduce a box of styrofoam and an optical illusion into court, and during jury selection "questioned potential jurors about their views on marijuana decriminalization". Let's hope he can find Twelve Stoned Men and True.