The BBC has hoisted the bathrobe on its secretive and ambitious Project Canvas set top box project, via the BBC Trust.
Canvas has been nicknamed "Freeview on Steroids" or "The iPlayer in hardware", which gives you some idea of its ambitions. It's intended to create a single hardware and software reference standard for future net-connected free TV viewing, overseen by a new organisation jointly owned by broadcasters and ISPs. The idea is that manufacturers will have a common spec with which to create boxes in time for Xmas 2010.
The rationale, the Canvas team told the Trust, was that without technical and UI standards, "there is a risk of fragmentation, followed by a concentration of supply within DTT [Digital Terrestial Television] which in turn lead to competitive bottlenecks, gatekeepers, and the dilution of the basic FreeView premise of a single, free alternative to pay TV."
And there you were, thinking crappy gameshows and repeats were the problem.
So Canvas will be jointly owned by the Public Service Broadcasters (PSBs) and ISPs in a 2:1 ratio. Ominously for pay TV operators such as Sky, and web video outfits such as YouTube, the old guard will maintain their grip on the user interface, as well as reserving the right to charge for listings. The EPG (Electronic Programme Guide) and "UX" (or "user experience") will be designed by the BBC and the Trust, assuming the EPG follows OFCOM's non-discriminatory guidelines, didn't probe further.
Selling the listings is considered a "cost recovery" measure. Not surprisingly, we learn from the Trust documents, Google complained and has asked for the metadata to be supplied for free to anyone, "and not based on a commercial relationship with Canvas".
Virgin also complained that "a mandated guide and UX would put Canvas JV partners in a position of editorial control, which they may then exploit in favour of their own services."
As you can see from the diagram, Canvas wants to maintain exclusive control over the main areas of the EPG.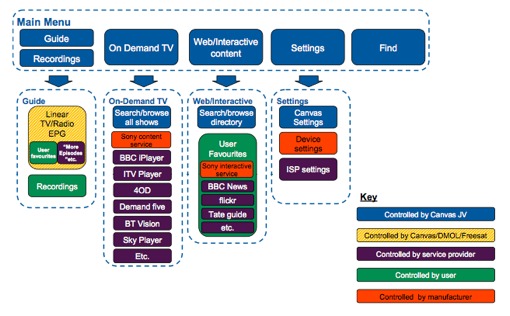 The broadcasters want to control the user interface and program guide [click to enlarge
Which might look a bit like this.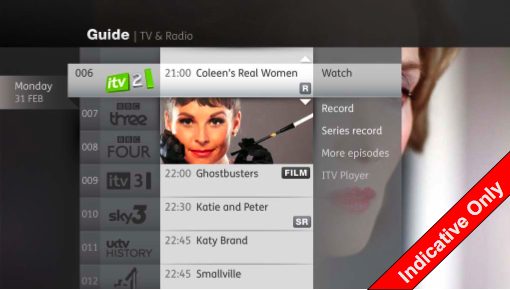 How the Cavas boxes' EPG might look
As for the backwaters, it's happy to leave them to third parties. And since the Canvas boxes will show web content, that means Canvas will control what websites you're offered too.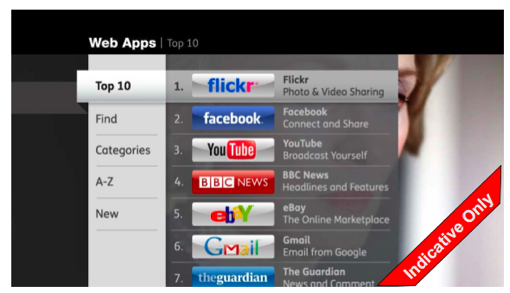 (Um... Perhaps the Grauniad wasn't the most diplomatic choice of sample sites, chaps. Bulls and red rags come to mind).
ISPs expressed concerns that they'd be paying for huge bandwidth demands - and the BBC says it's talking with BT about building a content delivery network (CDN) to ease traffic costs.
The Trust's assessment can be found here and the timetable here. Another consultation goes out in the Autumn. ®