D-Link Xtreme N DIR-685
Another stab at router convergence
---
Review Ah, convergence, that buzzword of the 1990s – so often promising a lot, but delivering little. Evidently, D-Link is toying with the convergence concept with the neatly packaged Xtreme N DIR-685. This four-port Gigabit router features 802.11n Wi-Fi, a 3.2in LCD panel – billed as a digital photo frame – and Nas functionality too. It certainly looks the part, but does it deliver on its promise?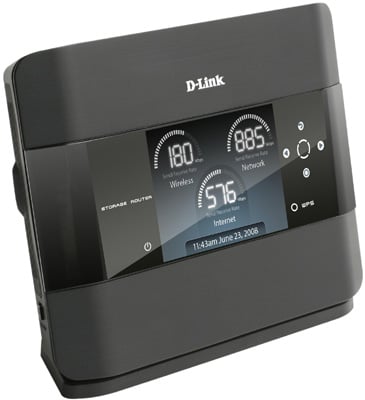 D-Link's Xtreme N DIR-685
There have been fully featured routers before – the Zyxel P660HWP with its Wi-Fi, four Ethernet ports, ADSL modem and Homeplug all-in-one springs to mind – but few undertake as much as the DIR-685.
Indeed, D-Link has got it spot on with the DIR-685's design. Rigid black plastic, varying between textured and polished on the front face, with no ungainly antennae pointing out. Heck, if it wasn't for the ports around the back and the slightly-too-small LCD panel, onlookers would think it was nothing but a digital photo frame.
At 3.2in it's a bit too small to be a decent photo frame, especially as most routers end up sitting on the floor a long way away from your eyesight. Yet it can sift through photos loaded onto its hard drive to get slideshows going or the FrameChannel Internet service can be selected, which shows news feeds, weather updates and photos stored online. The LCD panel can also display throughput speeds, router status, time and date and hard drive status.
To get the Nas functionality going, you'll have to add your own 2.5in Sata hard drive. The hard drive slides in easily from the side and can be quickly removed by pressing the un-mount button and a spring eject panel. Higher capacity 3.5in desktop drives would be quicker and cheaper, but 2.5in drives make for a more compact package. They are also quieter, require less power and should reduce the amount of overall cooling required for the unit and, hopefully, fan noise, too.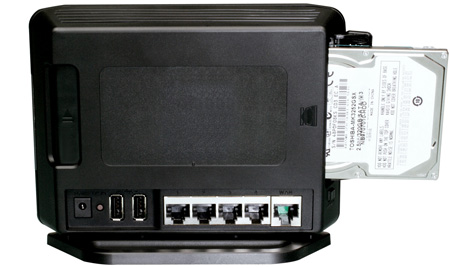 Accepts a 2.5in Sata drive – not supplied
The DIR-685's power consumption was consistently low. It never topped 9.1W throughout our tests and regularly sat at below 6W. What is most surprising about these low power consumption figures is the amount of noise it creates.