Users signing up for a Gmail account are now being asked to provide a mobile-phone number in the continuing war against spam, though Google will keep it handy just in case anything else turns up.
The new requirement pops up as part of the Gmail sign-up procedure, and requires the user to provide an SMS-capable number to which a security code can be sent. If you don't have a mobile then Google suggests you borrow someone else's, as those without one won't get a Gmail account anymore.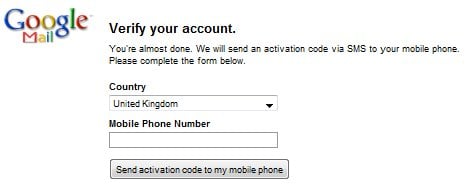 Nothing to worry about, you can trust Google
You might have thought that once the authentication has been received Google wouldn't need to hang onto your mobile number, but you'd have thought wrong:
"Your number will also be associated with your account to avoid unnecessary future verifications for other Google services", though the Do-No-Evil company does clarify: "your number will never be sold or shared for marketing purposes without your permission, nor will we contact you using this number without your express permission".
So that's OK then.
We contacted Google, who assured us this has nothing to do with harvesting numbers for an imminent launch of Google Voice on this side of the pond. That is a shame, but our charging structure always made it very unlikely.
The decreasing cost of text messaging has driven many companies to resort to such out-of-channel security measures, and if it works at reducing the deluge of spam then that's got to be a good thing. ®