Review Last year we reviewed Elgato's EyeTV 310 satellite TV tuner for Macs. It wasn't a brand new product, but the launch of the Freesat service here in the UK meant that we were curious to see how the device would handle the new service – especially the HD broadcasts on the free-to-air BBC HD channel.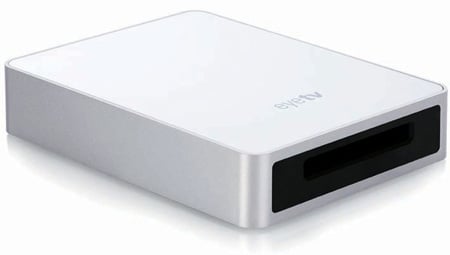 Elgato's EyeTV Sat
The EyeTV 310 had a few rough edges, such as its reliance on a Firewire interface at a time when even Apple appeared to be losing interest in Firewire. However, its main weakness was the £240 price tag, which made it something of a niche product for satellite TV aficionados.
The EyeTV 310 has now been discontinued, and replaced with the new EyeTV Sat. This new model is a lot smaller and more compact, and the price has come down from £240 to £180. That's still about three times the price of an ordinary Freeview TV tuner but, at this price, it starts to look like a viable alternative to a dedicated Freesat recorder or set-top box.
Designed in silver and white to match the style of the current crop of Mac models, the EyeTV Sat measures just 10cm wide, 15.5cm deep and 2.7cm high, and sits quite comfortably on top of the Mac Mini that we use as a media centre with our Samsung TV. And, in fact, most of that space is required for the Common Interface (CI) slot that's used to plug in additional pay-TV cards.
Like most TV tuners, the EyeTV Sat now uses a USB 2.0 interface to connect to your computer. While most TV tuners can draw their power from the USB connection, the EyeTV Sat relies on a separate mains power supply. Naturally, there's an LNB connector for the satellite cable, so don't forget that you'll need either a dedicated Freesat satellite dish or an alternative – such as an existing Sky installation – for TV reception. The tuner can receive both DVB-S and DVB-S2 signals, making it suitable for use across most of Europe and also Australia.
Like all of Elgato's TV tuner products, the EyeTV Sat includes the EyeTV 3.0 software for watching and recording TV programmes on a Mac. Yet, unusually for a company that traditionally specializes in Mac-only products, Elgato has also chosen to include a copy of Terratec's Home Cinema software for Windows PCs. However, it would help Elgato did more than just slap a Windows logo on the box.