The Terratec software is included on a separate partition on the software CD-ROM, but none of the documentation provided with the tuner mentions its existence, and it's not even mentioned on the label printed on the CD-ROM itself, so the Windows support is somewhat half-hearted at the moment. The Terratec software lacks the slick graphical interface of EyeTV 3.0, but it proved functional enough on our Toshiba laptop running Windows XP.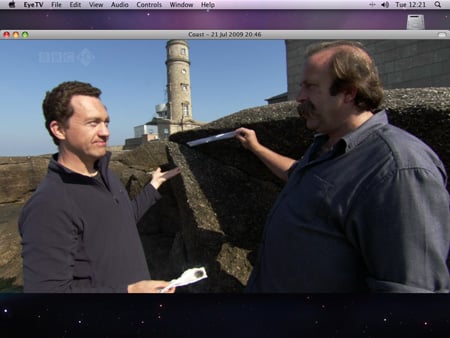 Viewing BBC HD broadcasts on a Mac
Unfortunately, neither program gives you any help locating specific satellite services, such as Freesat, here in the UK. They simply provide a pull-down menu listing the name of every satellite they can find, without giving any indication of the channels or services available from each satellite.
We knew from previous reviews of satellite devices that Freesat uses the Astra 2 satellite at 28.2-degrees East, so it was no trouble for us to quickly select that satellite and then wait for about 15 minutes while the EyeTV Sat scanned for available channels. Novices attracted by the lure of the free-to-air BBC HD channel – and the occasional episode of The Bill on ITV HD – might get lost at this point, so Elgato needs to provide a little more help for those who don't have a monthly subscription to What Satellite?
Once past that little hurdle the EyeTV Sat works well, although it does have some important limitations. We had no trouble flicking straight to BBC HD and making a few test recordings. As expected, switching from the standard-definition version of BBC2's Coast to the high-definition version on BBC HD produced a major improvement in image quality for the luscious landscape shots that programme specializes in.
Just bear in mind that HD recordings take up about 9.5Gb of disk space per hour, compared to around 2.5Gb per hour for standard-definition, so you'll need plenty of disk space if you want to record something like the five hours of the recent HD broadcasts of Torchwood. You'll also need a 2GHz processor to watch or record HD broadcasts efficiently. Our 2GHz Mac Mini worked fine with HD recordings, but a 1.8GHz MacBook and 1.8GHz Toshiba Windows laptop both struggled to maintain smooth frame rates on BBC HD broadcasts.
We also need to point out that the EyeTV Sat isn't an 'official' Freesat product that has been endorsed by Freesat itself. This imposes two main limitations – the first being that it can't decode the MHEG-5 broadcasts that carry the Freesat electronic programme guide (EPG).