This article is more than 1 year old
Cowon D2+ DAB
The audiophiles' player of choice?
Review The portable media player market ranges from the cheapest, smallest screen players, aimed primarily for playing music, to palm-sized, PDA-style pads, more than suitable for watching films and time-shifted TV. The Cowon D2+ DAB is definitely at the smaller end of the scale, but still offers a good range of programme sources including, as you'll have guessed from the name, DAB radio.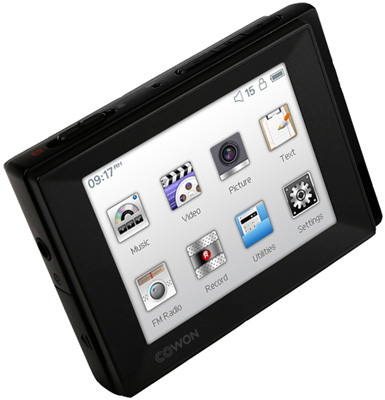 Cowon's D2+ DAB
The D2+ DAB is intended as a pocketable player, which can provide audio and video output, although its relatively small, 320 x 240 pixel screen biases it towards audio. It's flash based and comes in capacities of 4GB, 8GB and 16GB. Very similar in size and function to the D2+, which was itself a firmware revamp of the D2, the D2+ DAB is available in black or silver and is about the size of a compact GPS. The chamfered surround to the 63mm TFT display makes the screen look a little smaller than it is and the player's 16mm thickness means it's a chunky device.
A bar down the right-hand side of the case is there entirely for the slot in one end, to which you can tie the strange triangular stylus. Actually, the stylus isn't that strange, when you realise it can be fitted into the same slot to act as a stand for viewing the D2+ DAB on a table or desk. When you then realise it can be slotted in two ways up, giving different viewing angles, it's actually quite clever.
Controls are minimal, with a power/hold slider and buttons for menu and volume up and down on top. There's a card slot in the bottom, which can take SD and SDHC cards up to 32GB and set into the left-hand side are USB and EXT connections (for external power supply, not included) – under a tethered, pull-away cover – as well as a stereo headphone jack.
The reason for the sparse set of buttons is, of course, that the LCD is a touch screen. You can use a finger to operate the virtual buttons and make menu selections, but it's a lot easier with the stylus and almost mandatory for controls such as audio equaliser sliders.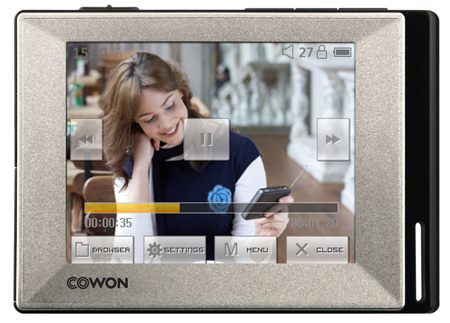 The bright TFT display is best used with the supplied stylus
The user interface is functional, but not remarkably slick. There are a few too many buttons with legends that aren't immediately obvious and we've never been a big fan of translucent overlays for transport controls. Still, it's not too difficult to work your way around, and there are certainly a lot of functions to explore.