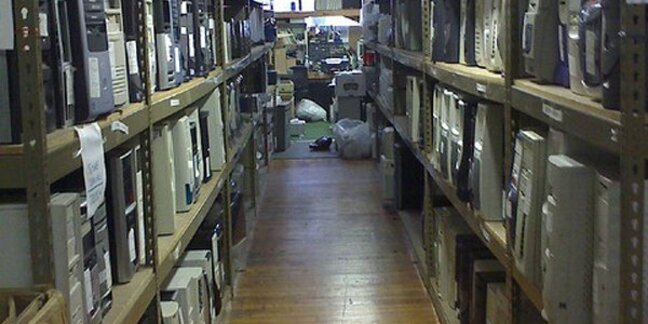 A California couple has been indicted for wire fraud, mail fraud, and money laundering for their gaming of 3Com's Trade-Up rebate program. One has been arrested. The other is on the lam.
Sheng Qiang (aka Becky Qiang, aka Becky Sheng Qiang) was arrested at her home in Palo Alto, California, last Friday. Hubby Yezhou Zhao (aka Jake Zhao, aka Jake Chao) remains on the run from the feds.
Considering the amount of money the couple is accused of bilking from 3Com, Yezhou/Jake can afford to keep moving for quite some time. Travelling first-class.
According to the indictment, filed on June 15 at the US District Court in San José, California, the couple submitted a series of "false and fraudulent 'Trade-Up' rebate requests" to 3Com from 2003 until 2008.
3Com's description of the Trade-Up program says that it was intended to incentivise companies to "trade-in old technology and move up to specific models of new 3Com products". It planned to do this by providing rebates of up to 20 per cent to be applied the purchase of new 3Com equipment - but only if the rebate seeker would certify that older equipment had been "destroyed."
The Zhao-Qiang gang were incentivised by the rebate part - it was the purchasing of the new equipment and the destruction of old equipment that they're alleged to have skipped.
The indictment states that the couple filed false Trade-Up rebate requests totalling $89,766.95. To support their scam, they allegedly created multiple fake personal and company names, and used those names to open private mailboxes at UPS stores and Mail Boxes Etc. locations, then instructed those stores' employees to forward the cheques to their home.
Exactly how 3Com was fooled into writing nearly $90,000 worth of cheques for equipment that was never duly destroyed is not discussed in the indictment. And 3Com's rebate form (PDF) requires a wealth of information, including "end-user invoice[s] with purchases of eligible products clearly indicated."
The alleged rebate-ripoff wrongdoers are also being charged with aiding and abetting international money laundering, but the figure involved in those nine counts is more than twice that of the Trade-Up scam: $214,715.
We're sure that the Feds would like to ask Yezhou Zhao about that discrepancy, should they track him down. Or maybe Sheng Qiang will sing if she decides that her better half has left her to face the music alone.
Or possibly 3Com might discover that it has written $100,000 more bad checks. ®
Sponsored: Webcast: Ransomware has gone nuclear