Yesterday, The Reg reported that researchers had discovered a vulnerability in the iPhone and other mobile devices that made them vulnerable to an SMS hack.
This morning, Apple fixed it.
Apple spokesperson Tom Neumayr told The Reg about the fix when we contacted him after the BBC reported that O2 had said a fix was on the way.
According to Neumayr:
We appreciate the information provided to us about SMS vulnerabilities which affect several mobile phone platforms. This morning, less than 24 hours after a demonstration of this exploit, we've issued a free software update that eliminates the vulnerability from the iPhone. Contrary to what's been reported, no one has been able to take control of the iPhone to gain access to personal information using this exploit.
It should be said, however, the vuln was first discussed by security researcher Charlie Miller, principal analyst at Independent Security Evaluators, three weeks ago. Miller is credited by Apple, along with Collin Mulliner of Technical University Berlin, for reporting the vuln.
Although we're not among those who reported that the vuln had been used to bag anyone's personal info, we're still quite pleased that the 297.9MB iPhone 3.0.1 update loaded swimmingly onto our own personal iPhone 3GS.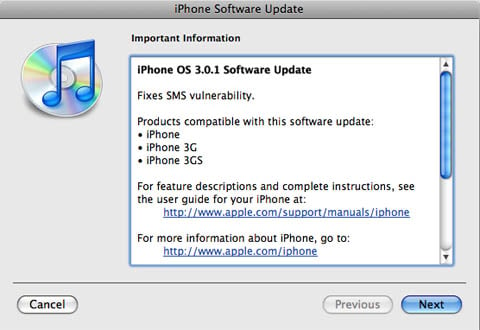 One of the more straightforward update descriptions we've seen in quite some time
To access the fix, connect your iPhone to iTunes as per usual, and click Check for Update. Or you could simply wait until iTunes does its automatic weekly self-check.
But, as always, better safe than sorry. ®
Similar topics