Scientists in Germany have developed what they describe as "a flight simulator for flies", in which tethered insects experience virtual scenarios presented to them on a small wraparound screen.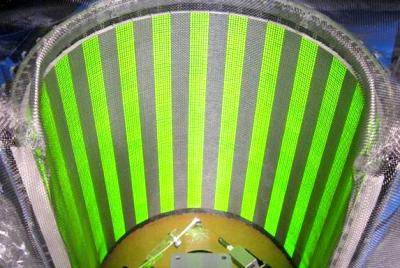 Week one, day one, and the Blowfly Top Gun Trophy race was still wide open.
The research is not, as one might speculate, intended to train flies in improved piloting skills - perhaps teaching them not to bump into windows so much, etc. Rather, the Teutonic boffins are seeking to understand how it is that creatures with such tiny, limited brains are able to perform difficult aerial manoeuvres with speed and precision.
The mastermind behind the insect flight-sim machine is Professor Alexander Borst of the Max Planck Institute for Neurobiology. His carefully selected blowfly test-pilots carry out their simulated sorties with brains wired up to a complicated electrode insect bonce-monitor rig, which the prof believes will offer valuable insights into their advanced aviating skills.
According to the Max Planck Institute, much has already been discovered through use of the blowfly brainhat immersive VR flightsim setup.
The way flies process the images from their immobile eyes is completely different from the way the human brain processes visual signals.

The first step for the fly is to construct a model of these movements in its tiny brain. The speed and direction with which objects before the fly's eyes appear to move generate, moment by moment, a typical pattern assessed by the so-called "lobula plate," a higher level of the brain's vision center. In each hemisphere there are only 60 nerve cells responsible for this ... it's important that motion information from both eyes be brought together. This happens over a direct connection of specialized neurons called VS cells.
"Through our results, the network of VS cells in the fly's brain responsible for rotational movement is one of the best understood circuits in the nervous system," says Professor Borst, proudly.
Allied researchers at the Technische Universitaet Muenchen (TUM) intend to build on Borst's breakthrough blowfly brain blueprints.
"TUM researchers are developing small, flying robots whose position and movement in flight will be controlled by a computer system inspired by the example of the fly's brain," according to the Munich tech powerhouse. ®
Similar topics