This article is more than 1 year old
Nissan turns over new Leaf
First electric car
Leccy Tech Nissan has whipped the dust sheets off its first electric car.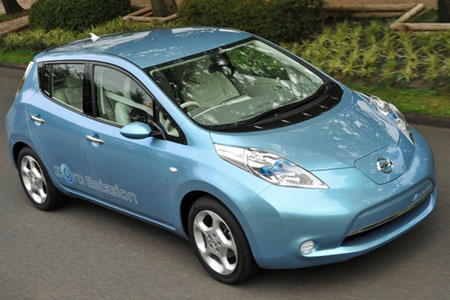 Nissan's first electric car, Leaf, will arrive in the UK during 2011
The curiously named Leaf is goes on sale in Japan and across North America next year. Nissan UK has confirmed to Register Hardware that the car will breeze into Blighty during 2011.
Technically, the Leaf is very similar to Nissan's recently unveiled EV-11 systems development prototype. So we're talking about a five-door, front-wheel drive hatchback powered by a single 80kW (107bhp) electric motor and connected to a 24kWh laminated lithium-ion battery pack.
With exterior dimensions of 4.4m x 1.7m x 1.5m, the Leaf is considerably longer and wider than Mitsubishi's iMiEV - which is likely to be the only e-car competition the Leaf will face when it goes on sale in the UK.
Leaf can reach a maximum speed of over 90mph and will keep going for roughly 100 miles from a full charge, Nissan says, With 280Nm (208lb/ft) of torque on tap, acceleration should be pretty brisk.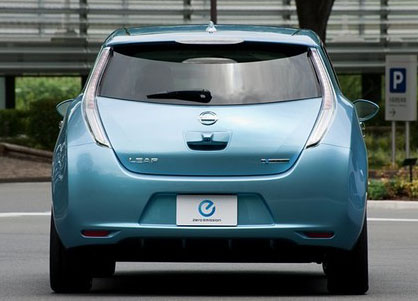 Leaf can go for 100 miles on a full charge
The 200kg (440lb) 192-cell battery pack sits under the floor, which gives the car an almost flat underside. As with the iMiEV, the Leaf has several recharge options: you can pop open the small charge cover on the bonnet, or you can connect the Leaf to a domestic 240v socket or 50kW DC off-board fast charger.
Using the 240v option will fully charge Leaf's battery in about eight hours. However, using 50kW option will put 80 per cent capacity into the car's battery in under 30 minutes.
Inside the Nissan electric vehicle you'll find an advanced communications and navigation system, which connects the car to a global data centre for 24-hour "support, information and entertainment".
Leaf's dash-mounted display shows the car's remaining battery power and the locations of nearby charging facilities.
Nissan hasn't said how much Leaf will cost, beyond promising that a competitive priced C-segment vehicle. So you could expect to pay something in the region of £20,000 ($33,400/€23,450), before any government rebates or subsidies. ®