An unreleased BlackBerry smartphone, which purportedly succeeds the RIM's Bold, is available for sale online.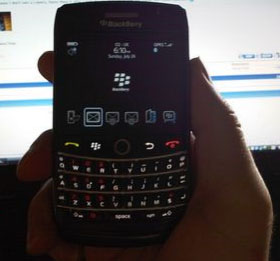 The owner wants £900 for this pre-release Onyx
Pictures of the Onyx – also known as the 9020 - have been doing the rounds online for several months. But this single pre-release device is believed to be the first time that the phone has become available to buy anywhere.
We've no idea if the pictured device is genuine or not. The London-based owner wants a steep £900 ($1514/€1061) for it, which, he says, reflects the fact that the Onyx doesn't officially ship for another three to four months. As a pre-release, the handset is not boxed and is "not market ready". Which would make any unboxing video mercifully short, if not sweet.
The owner hasn't described any technical features. But, thanks to AT&T screenshots leaked in May, we already know that Onyx features quad-band GSM connectivity, Edge support, GPS and Wi-Fi.
The phone also has a 3.2Mp camera, Bluetooth 2.0 and Micro SD memory card slot.
Further details about the £900 Onyx are available online. Thanks to reader Tom for the heads up. ®