This article is more than 1 year old
Toshiba Satellite A350-12J
Shiny, but samey
Review If you like your laptops nice and shiny, Toshiba's new Satellite A350-12J will go down a treat. Not only do you get a glossy black chassis with a lid that's surprisingly smudge-resistant, but the keyboard is also coated in the stuff. It's not something that will appeal to all tastes, and we found it felt very odd to type on.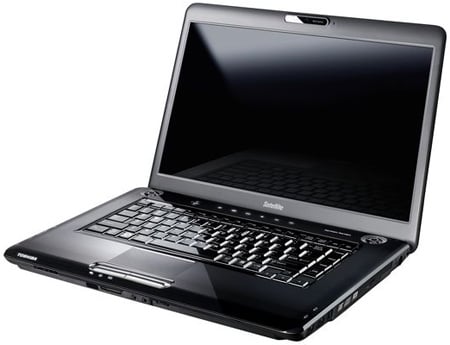 Toshiba's Satellite A350-12J
In its favour, though, the keys do have a decent amount of travel and spring back into position nicely. Key placement is also good, with our only complaint being the slimmed-down Enter key, which can be tricky to locate when touch-typing.
We have to admit to liking the illuminated Toshiba logo on the lip of the chassis as well as the light strip along the top of the trackpad – when the novelty wears off it's possible to turn both of these off, along with the lights on the touch-sensitive controls just above the keyboard.
The trackpad feels good to the touch and matches the 16:9 aspect ratio of the screen, however it doesn't feature any multi-touch capabilities so iPhone-style zooming is out.
Toshiba has tried to further liven up the inside of the chassis by adding a rather strange silver horizontal-line motif. It's not something we're huge fans of, but at least it's not quite as stomach-churning as the styling on Toshiba's Qosmio X300, which makes the Satellite A350 look positively mundane.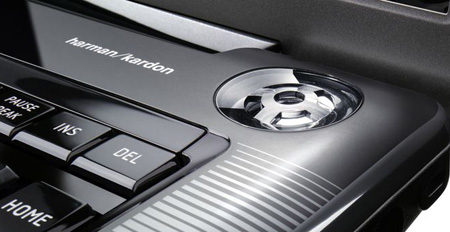 Harman Kardon speakers, but distortion creeps in at full volume
A pair of Harman Kardon speakers sit at the top of the keyboard and provide better-than-standard audio, but they're still a little tinny and struggled when we tried outputting some bassy tunes at full volume.