This article is more than 1 year old
What's Welsh for Orange?
Welsh first for Samsung phone
Half a million or so Welsh speakers will get the first mobile phone designed with them in mind.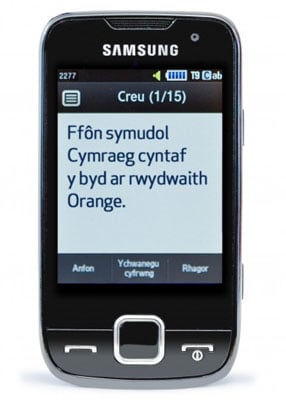 Samsung's S5600: soon available with a Welsh dictionary
Orange has won an exclusive to sell the Welsh language version of the Samsung S5600. It goes on sale on September 1 and is available on 24-month contract at £19.57 per month or at £14.98 per month (with a £9.50 upfront fee). The pre-pay version retails at £129.00. They come in black, pink and white.
We are fairly sure that predictive texting has been available in Welsh for many years. But Samsung says it has gone further, with a dictionary of 44,000 Welsh words and Welsh menus. And predictive texting in North Wales and South Wales dialects.
Appropriately enough, Orange debuted the phone yesterday at the National Eisteddfod of Wales. It has an early convert in Alex Jones, a presenter on the Welsh language S4C TV channel, who helped launch the phone.
"It's an amazing idea and perfect for people like me who do a lot of our conversing in Welsh. Things like typing and sending text messages are so much easier on this phone as opposed to the issues we all face on English-only phones. I know all my friends will want to get hold of one as soon as they are in the shops."
Or, as she says, in the Gymraeg version:
"Mae hwn yn syniad anhygoel gan Orange a Samsung, mae'n berffaith i rywun fel fi sy'n cyfathrebu llawer yn Gymraeg. Mae pethau fel teipio ac anfon negeseuon testun yn llawer haws ar y ffôn hwn o gymharu â'r problemau sy'n wynebu pob un ohonom gyda ffonau uniaith Saesneg. Rwy'n gwybod y bydd pob un o'm ffrindiau am gael gafael ar un o'r ffonau hyn cyn gynted ag y byddant ar gael yn y siopau."
Does this woman want an endorsement deal, or what...
Press releases below. We couldn't find the Welsh language versions online, so you will have to make do with English.