This article is more than 1 year old
Electric car powers across land, ice and water
Modern-day paddle steamer
Leccy Tech Many drivers baulk at the thought of driving during the MET Office's warnings of treacherous road conditions. So a team of designers has dreamt up a concept leccy car able to power its way across pretty much any surface, including water.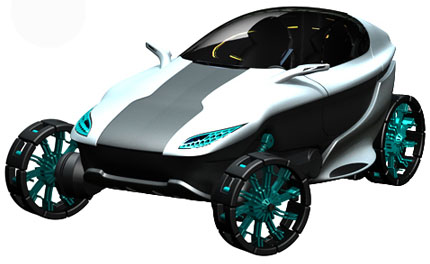 The Amphibious Hybrid would work just as well on water as it would on tarmac
The secret to the aptly named Amphibious Hybrid vehicle's on and off-road success lies in its "intelligent wheel system", which would use terrain sensors to monitor the environment that you're driving across.
For example, should the sensors detect that you're driving over ice or through snow, then they would tell the car's wheels to "open up a little bit" to increase surface area and traction.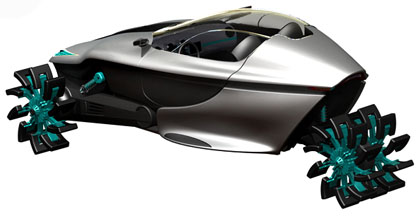 No need for a mast
And you wouldn't have to turn back when you reach Brighton, either, because the car's wheels can transform themselves into a sort of paddle steamer design - keeping you going all the way to France.

Driving options: normal (far left), ice (middle) and water
Quite what each of the Amphibious Hybrid's three wheels would be made from hasn't been mentioned, but we assume each would consist of 10 tyre-like panels – as hinted at in the sketch above.
The designers haven't revealed much about the car's eco-credentials, aside from promising that it would have a Nissan Leaf type electric engine arrangement under its futuristic shell.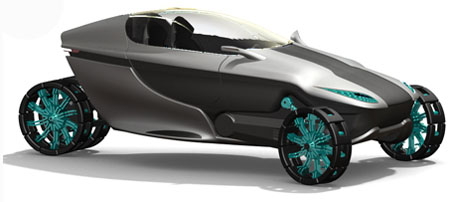 A rental service could make the car cheap to drive
If the car ever does go into production – something that the designers: Janne Leppänen, Tuulia Miettinen, Roope Kolu, Tiemen Stelwagen, and Jaap Van Der Voort don't appear to have plans for, yet – then a rental system would, apparently, enable the car to be hired for just €5 (£4/$7) per day. ®