This article is more than 1 year old
Dastardly DDoSers down Gawker
Consumerist.com drags everything else down with it
New York-based media news and gossip blog network Gawker is recovering from a debilitating denial of service attack.
The assault, which began on Sunday, flooded its servers with bogus traffic, leaving legitimate visitors unable to view its network of sites. The attack ebbed and flowed on Sunday before reaching its peak on Monday. By Thursday, most of the sites were operating normally, aside from a prominent note on Gawker.com explaining that the site had been the victim of "dastardly hackers".
Thomas Plunkett, Gawker's chief technology officer, told the New York Times that the attack was aimed at one particular site in its network - Consumerist.com - so the takedown of other sites was essentially collateral damage.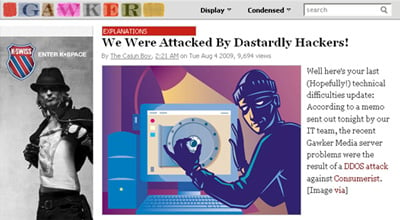 Gawker sold the Consumerist to the Consumers Union last year, but the site continues to live on the same systems as remaining Gawker sites, all hosted by New York ISP Datagram. The perpetrators and precise motive behind the attack remain unclear.
Net security firm Sophos notes that DDoS attacks are normally launched from botnets of compromised PCs. Graham Cluley of Sophos said that in the past such attacks have been motivated by both grudges against the content of a victimised site or attempts at extortion. A grudge against Gawker seems the more likely scenario in this case, he added.
Gawker is fairly frequently in the news in its own right. For example, last September Gawker published screenshots of the emails and photos obtained by hackers who broke into the webmail account of then vice-presidential candidate Sarah Palin. Last year, Gawker published a Tom Cruise Scientology vid shortly after legal action resulted in its temporary removal from YouTube. ®