This article is more than 1 year old
Panasonic DMR-XS350EB
Freesat DVR
Review Freesat recorders are currently rather few and far between with Panasonic only the second company to launch models supporting this service. In doing so, it has adapted its existing DVD recorders by adding satellite tuners. It's a slightly different approach to hard-disk recorders like the Humax Foxsat-HDR or Sky+, which have no optical drive and are built as DVRs first and foremost.

Panasonic's DMR-XS350 Freesat DVR
The DMR-XS350 is the entry-level Freesat model going for £699, but shop around and you can pick it up for about £570. It has a multi-format DVD writer and a 250GB hard drive. Further up the range are two models that swap the DVD for a Blu-ray writer, with a 500GB disk option. All have twin satellite tuners and bear the Freesat+ logo, so tricks like series linking are supported.
The case is a standard AV-width unit, with an uncluttered front panel; a flap at the bottom reveals analogue video, USB and DV inputs together with an SD card slot and a few buttons. Along the top there's an eject button and a power button – curiously the power button is on the left, by the disc tray, with the eject button on the far right.
The rear panel has two SCART connectors for input and output, plus HDMI, component, composite and S-Video output, Ethernet, both varieties of digital audio output along with analogue phono outputs, and the connectors for the two satellite tuners.
In terms of connectivity, then, every base is covered. Camcorder owners can plug in SD cards – including those with AVC HD recordings – DV cables or USB, and copy directly to the hard drive, or create a DVD.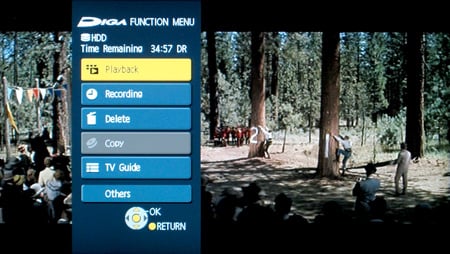 The main menu - familiar Panasonic fare
You can also play DivX files from a USB disk or recordable media. It's pretty easy to copy files to the hard disk, and from there to record DVDs as well, with functions to add chapters and even change the thumbnail images used in menus. DVD menus aren't things of great beauty, but are certainly functional.