This article is more than 1 year old
Panasonic DMR-XS350EB
Freesat DVR
If you're used to Panasonic's DVD recorders, then all this will be pretty straightforward, though there were some elements we found a little quirky – many tasks are done via the Copy menu, but if AVC HD files are involved, you have to choose 'Others' and then a separate 'Copy AVC HD.'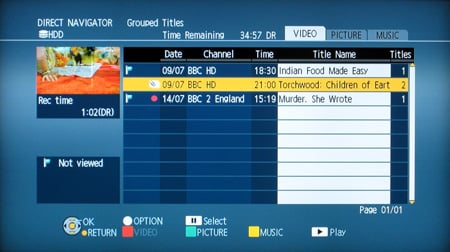 The Navigator locate programmes, but it's back to the main menu to copy them to DVD
And, of course, when you're writing a disc, you can't do anything else, including watching Freesat, so offloading material to DVD when the hard drive fills up is something best set to start before you go to bed, or head out.
DVD playback is good, with pictures looking very crisp upscaled via the HDMI output and, as with many of the other functions, if you have a Panasonic TV set, then it can all be controlled using the Viera-link function.
Using codes in the manual, the XS350's own remote can also be programmed to give basic control of some TVs. CDs play well too, with the added bonus of the Ethernet port being used to retrieve title information from the Gracenote database. You can also rip CDs to the hard drive, so this makes creating an audio jukebox very simple.
The Ethernet port also comes in handy for Panasonic's VieraCast service, though unlike the recently reviewed TX-L37V10 the only internet services on offer from the products in this range are YouTube and Picasa. Many people will be approaching the DMR-XS350 not as a DVD recorder, but from a completely different angle, as a Freesat DVR. As a DVD recorder, it does a great job. Expect it to do all the same things as Sky+ or Humax's HDR, and you may be a little less thrilled.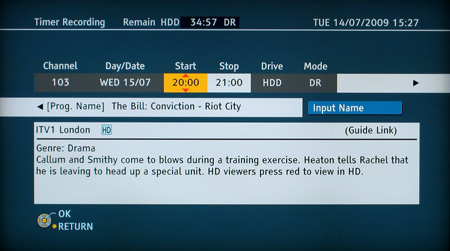 Freesat recordings are saved in the original format, so you can replay in HD
That's not to say we found it unreliable – it works fine, and didn't miss any recordings. It will work with a single LNB connection, though you'll lose twin recording obviously; with two connections you're forced, like Sky+, to watch one of the channels being recorded and, unlike the Humax, other channels on the same transponders are unavailable.