This article is more than 1 year old
Panasonic DMR-XS350EB
Freesat DVR
The usual Freesat EPG is straightforward to use, with both multi-channel and single channel views. Highlight a programme, press OK, and you can set a recording, or create a series link. But it's here that you start to see a slight lack of polish, exemplified by a message when recording from ITV telling you "The same programme in High Definition picture quality exists" and offering the chance to record ITV HD instead.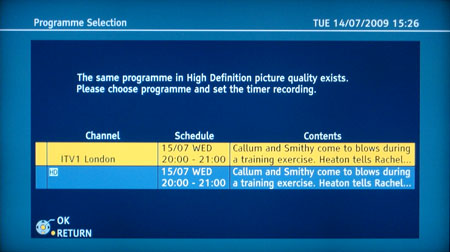 Panasonic, what happened to your grammar?
There's an air of clunkiness switching between tasks too, where the screen will go blank for just a little bit too long before the menu you want appears. Freesat specifies a feel for its EPG, but other screens, like the timer list and the 'Direct Navigator' don't really match this.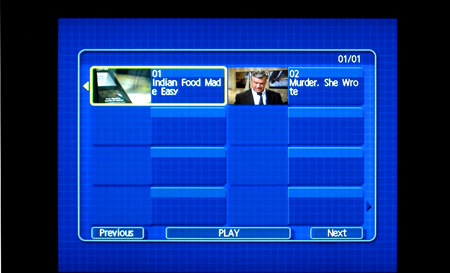 Not a thing of beauty, but menus for DVDs burning do the job
Furthermore, while you can see what recordings you have on the hard drive using the navigator, you need to go through the main menu to choose which ones to copy to recordable discs. You can, incidentally, copy HD recordings from both the BBC and ITV to disc, though they'll be re-encoded in MPEG 2 for the DVD. Finalise a disc and you can then play it in any other player, but copying is a real-time activity as material is processed, plus a little extra on top.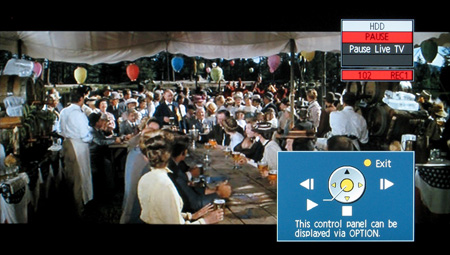 Pause live TV lacks the responsiveness of a dedicated DVR
Recordings from Freesat are stored on the hard drive in their original format, so you can catch up on HD material later in all its glory. Series are stored in their own folders, and flags indicate what's been watched, while a small preview window will help you find the right episode. It works commendably well. Yet, compared to other DVRs, there are niggles.