This article is more than 1 year old
Panasonic DMR-XS350EB
Freesat DVR
There's no constant buffering, for instance, so live pause takes a few seconds (with a blank screen) to kick in, rather than being instant. And if you pause a playback, the fast forward and rewind buttons turn into slow motion steps. So if you want to skip back to refresh your memory, you need to press play first, then rewind, then play again.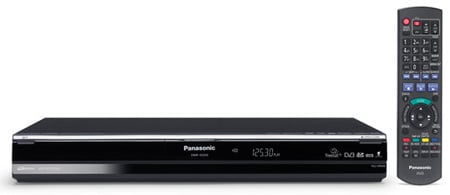 Lacks the refinements you'd expect for the price
Also an instant recording started from the remote runs until you press stop, rather than having options for the current or next programme, and programme details from the EPG aren't saved with recordings, either.
Little things maybe, but it's those that shape the experience of using a DVR and help them change the way people watch TV. As a DVD recorder, we'd probably give the DMR-XS350 a higher score. But in a satellite DVR, at this price, we expect a much smoother operation.
Verdict
The DMR-XS350 is a very flexible DVD recorder, and the Freesat tuners give it a unique edge. But it's expensive, and parts of the interface lack the polish that you'd expect from a brand like Panasonic. Though it does the job as a satellite DVR, it doesn't match Sky+ or Humax Freesat recorders in terms of slickness. ®
More TV Recorder Reviews...

Elgato
EyeTV Sat

Digital Vision
GiGo DV-DTR1

Humax
Foxsat-HDR

SiliconDust
HDHomeRun

Panasonic DMR-XS350EB
As a DVD recorder, it has plenty of tricks up its sleeve, but as a satellite DVR, it's more clunky and less polished than the competition.