This article is more than 1 year old
Docs wire up world's first internet-connected pacemaker
Beware the Ping O' Death
A New York woman has became the first person to receive a pacemaker wirelessly connected to her doctor, enabling monitoring and checkups without all that mucking about examining people.
The device contains a radio transmitter which connects to receiving equipment in New Yorker Carol Kasyjanski's home, using a very low-power signal around 400MHz, to report on the condition of her heart. Any problems are instantly reported to the doctor, and regular checkups can be done by remotely interrogating the home home-based equipment - the pacemaker itself doesn't have an IP address, fun as that would be.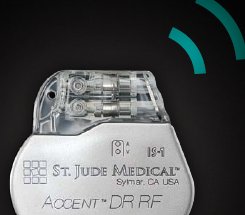 The pacemaker used (specification pdf) was approved by the US Food & Drug Administration at the end of July, enabling this first live trial. Reuters quotes Dr. Steven Greenberg of St. Francis' Arrhythmia and Pacemaker Center, where Carol is being treated, explaining how much better the automated system is:
"If there is anything abnormal ... it will literally call the physician responsible at two in the morning if need be ... It is a tremendous convenience for the patient from even interacting with a telephone to call the doctor."
If the patent is rapidly losing consciousness then that makes sense, though one can't help wondering if it will be the doctor's computer that does most of the monitoring. Dr. Greenberg continues:
"In the future, these pacemakers may be placed not just for people with slow heartbeats. We may be monitoring high blood pressure, we may be measuring glucose, we may be monitoring heart failure... it is not just a rhythm monitor but a disease monitor."
The spectrum from 402-405MHz has been allocated for such medical devices on both sides of the pond, so it won't be long before implanted ID cards are the least of our worries. ®