Microsoft nails retail store logo and locations
"Next door" and them some
---
Microsoft has locked down the logo for the planned retail stores it hopes will take a bite out of Apple's PC and phone business.
The company has been awarded a trademark for the colored squares-within-squares logo that first popped up in a leaked presentation of a proposed layout for the stores. You can view Microsoft's trademark filing - awarded by the US Patent and Trademark Office - and logo here.
The award came as it emerged that one of Microsoft's first planned retail outlets won't be quite as in Apple's face as Microsoft's chief operating officer led us to believe in July.
Kevin Turner last month rallied the faithful by promising to take the competition literally right to Apple's doorstep, with Microsoft's first Windows stores this fall.
Turner told Microsoft's Worldwide Partner Conference (WPC) in June: "We will have some retail stores that are opened up right next door to Apple stores this fall."
"Some" is right. As Microsoft revealed a teaser shot for one of its debut locations, it became clear there will be almost 10 miles driving distance between one of Microsoft's inaugural stores and the existing Apple outlet in Scottsdale, Arizona.
Microsoft named Scottsdale and Mission Viejo, California as the locations for the first two stores - due to open this fall - as it Tweeted a picture of the hoarding outside its Scottsdale location here.
According to local Photographer Dan Coogan, who followed up with his own shots here, that puts Microsoft's planned Scottsdale outlet in Scottsdale Fashion Square at the junction of Camelback and Scottsdale Roads - where Apple's local store is not listed as a retail outlet.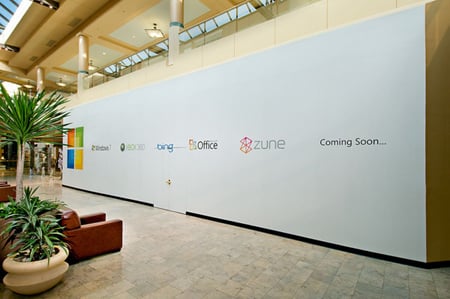 Microsoft's planned retail outlet in Scottsdale, Arizona
Apple's Scottsdale store is instead 8.5 miles north in the more up-market Shops at Scottsdale Quarter.
Scottsdale is in a desert state, a place where it can get so hot that the ground crews at some airports are not allowed to refuel planes on the tarmac at certain times of the day. So, if you want to indulge in a bout of spirited laptop hunting, it'll either mean a drive with air-con blasting or a sweaty yomp with plenty of water and sunscreen, rather than a relaxed Saturday-afternoon meander.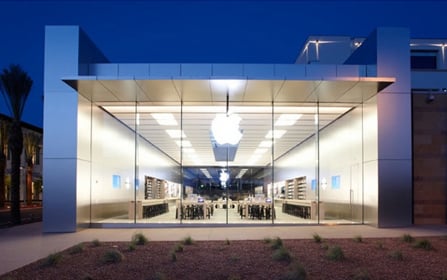 Apple's Scottsdale store, almost 10 miles away from Microsoft
Laptop hunters will have less of a hike at Mission Viejo, in Orange County, southern California, which appeared to be the place Turner was referencing when he said "right next door to Apple stores" last month.
Microsoft's planned shop will be about six-to-eight stores away from the existing Apple shop on the upper level of the center court area of the mall, a spokesperson for the mall told The Reg. She categorized those six-to-eight stores as being of "typical" store size. ®