This article is more than 1 year old
How to hack a Sony Reader
Inside the Linux-based e-book viewer
Changing graphics
To see how things work, let's start with a very simple customisation. At the top left of the kBookAssets.png image is the word 'Reader' which appears on the main screen. Although you can put your name and other information on the About screen, people will have to hunt for it. So, we'll replace the Reader logo with some contact details.
You need to create an image that's 210 pixels across, and 70 high, with a black background.

The new logo should be 210 x 70 pixels, with a black background and white text, to match the existing screens
We've put the name of the reader, and a PO Box address, in case it's found and someone wants to post it back. You can put whatever you want in there, but remember there's limited space. Now, open kBookAssets.png, and paste the new image into the top left, over the word 'Reader'. Save the file and then copy it into the appropriate place for your reader's model and firmware, in the folder where you extracted the Universal Flasher.
For a UK 505 with the latest firmware that's:
files.505.1.2.00.18050/opt/sony/ebook/application/resources/scripts.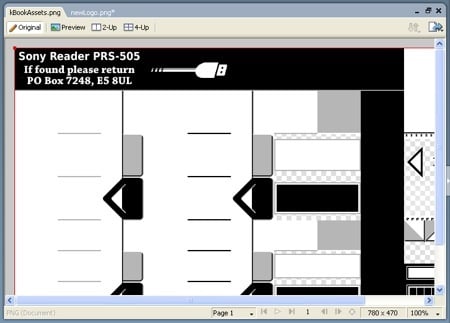 Paste the new image into the top left of kBookAssets.png
Now, find a blank SD card and copy everything in the Universal Flasher folder to the root directory of the card, then slot it into the Sony Reader. When the display appears, press 5 to create an image from the files on the SD card. Once the image has been created, press 6 to flash it to the Reader; after a pause, it will reboot, and you'll see the new logo at the top of the main screen. Replacing the icons and fonts is done in a similar way – files you put on the card replace those already on the Reader.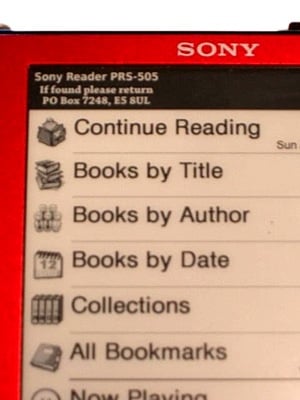 After flashing, our Reader has a return address visible on the main screen.