This article is more than 1 year old
How to hack a Sony Reader
Inside the Linux-based e-book viewer
You can add text to some of the screens on the Reader, and control how they appear, by editing those XML files. For example, when you select Settings from the main menu, followed by About, you'll see the various copyrights and logos. The information on this page comes from the main.xml file, which is in the scripts folder.
Open it in a text editor and look for the tag that starts

<group id="ABOUT_GROUP"

Just below is a <records> tag with individual <record> elements, all of which contain the text that appears on the screen. Each has a 'kind' attribute: types 0 and 1 have additional information added, based on authorisations for Sony's store and Adobe DRM. If you want to add your own name and address, the simplest way is just to edit one of the other options, leaving the 'kind' attribute set to -1. For example:

<record><number name="kind" value="-1"/><string name="text" value="This Ebook Reader belongs to Nigel Whitfield (nigel@nigelwhitfield.com): If found, please email, or post to PO Box 7248 London E5 8UL."/></record>

Again, save the XML file, copy it into the appropriate folder on an SD card for your Reader's firmware, flash, and you'll see the new text appear on the About menu.
Calibre – using a Sony Reader with Mac and Linux
The software that's supplied by Sony is Windows only, but that doesn't limit the reader to just PC users. An open source tool called Calibre is available for Linux, Mac OS X and Windows. As well as providing tools for managing your library of documents, it can also fetch websites and format them for the reader, and convert documents between formats.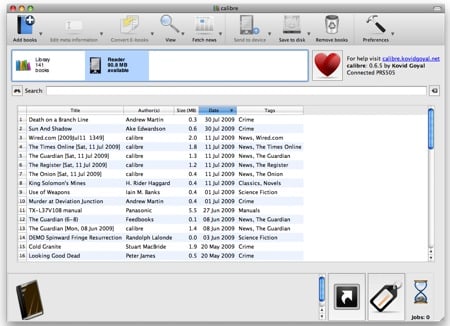 Calibre can manage Sony Readers and other devices, on Mac, Linux and Windows
If you want to use DRM books, such as those sold by Waterstone's eStore and you use a Mac, you'll need to register for an Adobe ID first, then spend some time on a PC with the Digital Editions software installed. Use that to authorise your reader with the ID, but don't transfer any books – the Mac version of Digital Editions can't authorise the Reader.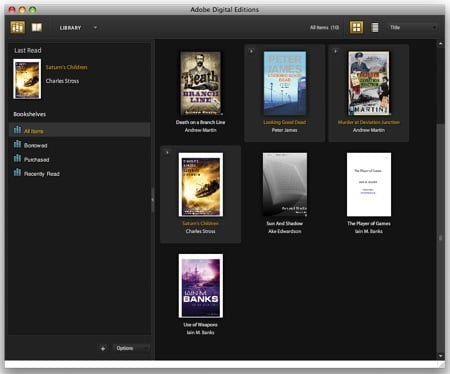 Adobe Digital Editions on the Mac can't authorise your Sony Reader for DRM books
Once the authorisation is done, you don't need a PC any more. You can use the same ID in Digital Editions on the Mac, and use Calibre to transfer the DRM-protected ePub files from the Digital Editions folder on to your Reader.