This article is more than 1 year old
Lacklustre N97 mars Nokia phone numbers
Behind the smartphone stats
Gartner blames a lacklustre take up of the feature-packed Nokia N97 for failing to please Nokia investors - and says it needs to shake up its high-end. Figures released by the analyst company yesterday show that Nokia has stemmed the haemorrhage in its market share, but failed to capitalise on its rivals geographical limitations. Investors want Nokia to raise its average selling price and demonstrate higher margins.
"Its flagship high-end N97 smartphone met little enthusiasm at its launch in the second quarter of 2009, and has sold just 500,000 units in the channel since it started to ship in June, compared to Apple's iPhone 3G S, which sold 1 million units in its first weekend. The right high-end product and an increased focus on services and content are vital for Nokia if it wants to both revamp its brand and please investors with a more promising outlook in ASPs and margins," reckons Gartner research director Christina Milanesi.
We plotted the last ten quarters of market share, including yesterday's figures, to show how Apple and RIM have gained ground - mostly at the expense of 'Others'. Since 2006, the 'Others' have included Motorola, Fujitsu, Sharp and Samsung.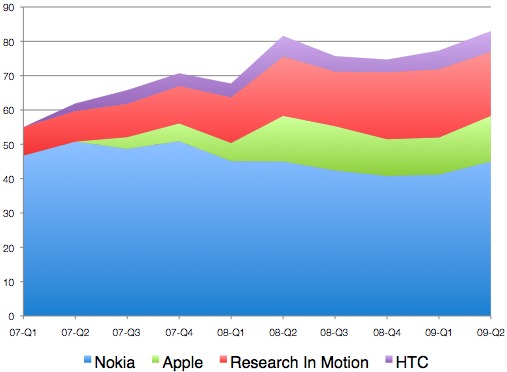 Market share per centages (data: Gartner)
But smartphones are a growing market, and is where phone manufacturers make their profits.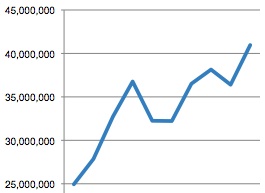 Smartphone unit shipments, Q1-2007 to Q2-2009
Just for fun, we looked back at some of the predictions for where the market would be by now.
In February 2000, Symbian's then CEO predicted annual shipments of 100 million for "WIDs" (or wireless information devices) by 2003, and 400m annually by the mid-noughties. ("If you look at a market of a billion devices, and half of them are data enabled, that's half a billion" he told your reporter.) Palm was to ship 5.1m PDAs in 2000.
By 2003, predictions had been scaled back. Gartner was predicting 173m annually by 2008 ("up 42 per cent compared to 2007"). The figures for 2007 and 2008 turned out to be 122m and 139m. In fact, only in 2006 did smartphones begin to outsell PDAs worldwide - but not in the US, where PDAs still outsold smartphones. When the US decided to upgrade its PDA, North American manufacturers were there to reap the reward.
One analyst to emerge from this "Think Of A Number" game with some credit is Informa's ARC Group, who predicted a run rate of 3.5m in 2002 to grow to 45m in 2007. They're the only ones we can find who undershot, too.®