This article is more than 1 year old
BlackBerry Curve 8520
Rim drops ball
Review Research in Motion's latest offering in the BlackBerry Curve range is described as an entry-level model. Indeed, it doesn't have a touch screen, GPS, or even a 3G network connection. However, it is a slim and efficient little work horse at a reasonable price with Wi-Fi, a 2Mp camera and all of Blackberry's push email know-how built in.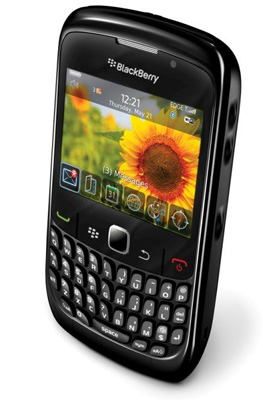 Rim's BlackBerry Curve 8520
It's not the smallest BlackBerry so far – that would be the Pearl with its numeric keypad and two letters for each key – but the 8520 is a full Qwerty keyboard design. Yet, at just 109 x 60 x 14mm and a lightweight 106g, it is smaller and lighter than its predecessors; the Bold, the Curve 8900 and the 8320.
On the front it looks standard BlackBerry, with its well laid out four-line Qwerty keyboard, plus a line of buttons for call start and stop, menu and back. The keyboard has the same layout as that on the BlackBerry Curve 8900 but just a little smaller, and without the older phone's chrome trim. Moreover, there was no problem finding the keys with our thumbs, for either one or two-handed messaging.
The customary BlackBerry trackball has vanished, and been replaced by an optical trackpad. Apparently, Rim see this as an evolution of the trackball, and we're likely to see more of it on future handsets. With no moving parts, it's expected to be more robust and longer lasting. The trackpad is deceptively easy to use. At first, we thought its smooth finish might not be as sensitive as the tactile trackball, but it worked very well, even when slightly moist.
If you find it too fast, there are nine different speed increments you can set it to, with separate sensitivity for vertical and horizontal scrolling. There's also an option for audible prompts, which can help when you're whizzing your way through the menus. It's a very well designed and useful tool, and we didn't miss the trackball at all.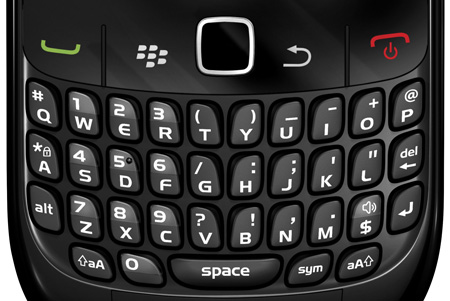 A sensitive and easy to use optical trackpad replaces the familiar trackball
The back features a plastic cover and the camera lens is positioned in the corner. The more expensive BlackBerrys have a metal back plate, but it's no great loss. Under the cover is the microSD card slot but, fortunately, you don't have to remove the battery to get to it.