The USA's amazing jumbo-jet-mounted blaster cannon, the Airborne Laser (ABL), continues progress through flight testing. Lead contractor Boeing announced last night that the ABL has successfully detected and locked onto a test rocket and held a "surrogate" low-power beam on it. Had a full-bore blast been fired, the rocket would have been destroyed.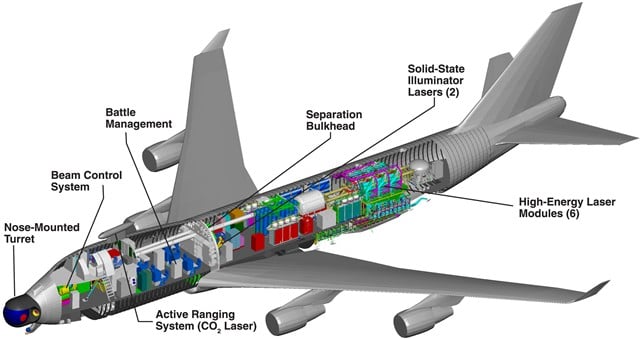 Talk about a hot ship
"This test demonstrates that the Airborne Laser can fully engage an in-flight missile," said Boeing jumbo-blaster veep Michael Rinn. "Pointing and focusing a laser beam on a target that is rocketing skyward at thousands of miles per hour is no easy task, but the Airborne Laser is uniquely able to do the job."
The flight test reportedly took place on Monday off the coast of California, with the target rocket launched from San Nicholas Island.
The prototype ABL, following many years of development and teething troubles, now appears to be closing in on a full-power flight test against a ballistic missile by the end of this year. All components of the system have been tested separately on the ground, and now the full-strength laser plus its associated sensors, battle management and beam pointing hardware have been installed in the plane (it had previously flown with a low-powered laser only, for trials).
There had been worries among ABL engineers regarding the system's ability to steer the high-powered beam onto target at long distances, compensating for atmospheric effects. Today's announcement is presumably intended to indicate that Boeing and its partners are now confident that this won't be an issue, and that full-bore tests against shortrange Scud-type ballistic missiles from the autumn will succeed.
No matter how well the tests go, however, the ABL may not have a future. The idea of the system would be to mount standing patrols within range of hostile missile-launch sites, as perhaps off the coast of North Korea. In the event of an enemy ballistic missile being fired against the US or an ally, it could be beamed out of existence as it lifted up from its pad or silo.
Such standing patrols would require a fleet of ABLs, though, and all funding beyond the initial prototype and demonstration has now been removed. The Missile Defence Agency may struggle even to get money for a test against an intercontinental missile (ICBM) target following the planned shots against theatre-range jobs.
Critics of the ABL point to its expense and the limitations imposed by its chemically-fuelled laser technology. The ABL's weapon requires large amounts of hazardous fuels - a reload packaged in trolleys for handling at a forward airbase would fill two monster C-17 heavy airlifters. Hints dropped by the US airforce research lab suggest that such a reload might offer as few as 6-10 "shots", too. With electrically-powered solid state lasers going from strength to strength in recent years, the ABL's chem-ray tech is looking more and more like a dead end.
Then it's being suggested that you may not need an energy weapon at all. Other ideas could be at least as suitable for attacking enemy ICBMs during their boost phase - perhaps high-speed interceptors fired from jet fighters, or from patrolling robo-planes. Such ideas are being heavily talked up in Washington at present.
It's also thought that the SM-3 naval missile, fitted aboard US and allied Aegis warships, might be of use here. The SM-3 isn't supposed to be able to hit ICBM warheads during the highest, middle portion of their trajectory: but it can reach into low orbit, as witness its success in shooting down a disabled US spy satellite above the Pacific last year. It might well be able to tackle ICBMs at the beginning or end of their flight - it was noticeable that US and Japanese Aegis ships deployed in advance of North Korea's latest (unsuccessful) long-range rocket test.
All in all, things seem bleak for the mighty raygun jumbo. But the full-dress tests later this year will still be an interesting spectacle at the very least. ®
Similar topics