Review Much midnight oil was burnt at Register Hardware while deciding just when and with what we should begin our Leccy Tech car tests. Try as we might, we just couldn't convince ourselves that battery powered quadbikes like the G-Wiz or Think City were the place to start. Nor could we rustle up much enthusiasm for third-party modifications like the Electric Car Corporation's battery powered Citroën C1.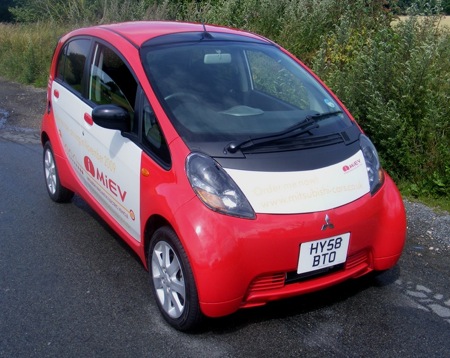 Mitsubishi's iMiEV: a proper electric car, at last
So we decided to wait for a dyed-in-the-wool electric car from a major car maker, and that car is the iMiEV from Mitsubishi, a leccy city car that will go on sale in the UK in limited numbers at the end of the year. It's made of good old-fashioned steel and won't fold up like a wet cardboard box if it's involved in an accident.
The iMiEV's exterior is frankly something of a love or hate affair, though our test car was hardly flattered by all the advertising and information logos that Mitsubishi had plastered all over it. Of course, the basic shape, with its rather bulbous cabin and extremely short front and rear overhangs, has nothing to do with the specific needs of electric propulsion since it's carried over from the petrol-driven Mitsubishi 'i' city car, a vehicle not available in the UK.
Either by happy coincidence or some inspired forward planning, the rear-mounted engine and rear-wheel drive platform of the original i lent itself perfectly to a leccy reinvention with the electric motor, inverter and associated technology taking the place of the petrol engine and fuel tank, and the lithium-ion battery pack sitting under the floor.
Once you settle behind the wheel in the rather upright driving position, the overwhelming impression in one of great space and excellent visibility. The second thing that hits you is that interior is remarkably unremarkable. Where is the expanse of LED instrumentation telling you how many trees you are saving? Thankfully, they are nowhere to be found. Instead, you get a workaday instrument set, three-dial aircon and basic CD entertainment system. Strangely in this day and age, the iMiEV lacks an MP3 jack or iPod dock.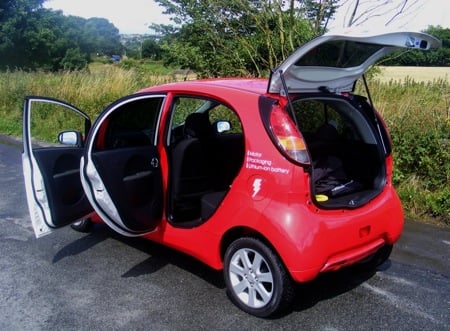 A decent number of doors?
The instrument binnacle has been designed to be as twit proof as possible. A large LCD speedometer is surrounded by a power-demand gauge that runs from blue – energy being returned to the battery pack via regenerative braking – through green – the normal driving mode, with no excessive demand being placed on the battery pack – to grey. With the needle in the grey are you're seriously depleting the battery pack.