The iMiEV's motive power comes from an electric motor with a maximum 47kW (63bhp) output and a 88-cell, 16kWh 330V lithium-ion battery pack. While the motor's power output may not sound that exciting, its torque figure of 180Nm (133lb ft) – all of it on tap from rest, remember – suggests the fun quotient may be higher than expected.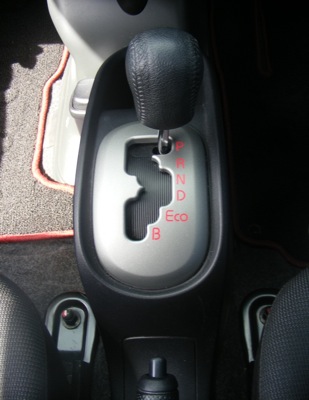 Set the motor mode with an auto-esque lever
While driving around town at low speeds, the iMiEV behaves exactly like any other super-mini. It's only when you plant the throttle and discover that torque-steer is noticeable only by its absence and that all that low-end torque can flick you towards the horizon rather faster than expected that you realize that this isn't just another small hatchback.
The iMiEV's combination of a high profile and rear-wheel drive didn't exactly instill us with confidence but the car's low centre of gravity – a handy side effect of the floor-fitted 200kg battery pack, which accounts for 20 per cent of the car's total weight – makes it a remarkably agile and stable vehicle. Despite some deliberately hamfisted and over enthusiastic cornering, we never came close to having a seriously brown moment.
For all Mitsubishi's claims that the iMiEV is a city car designed for local commutes and the school run, it's an absolute hoot to drive hard on the open road and this can easily deflect drivers from its environmental raison d'être.
Mitsubishi claims the car will cover the 0-60mph sprint in under 13 seconds, but that number belies the car's sprightliness in getting from a standstill to 30 - which we reckon takes about five seconds - and its mid-range urge, which is never less than impressive. Floor the throttle at 40mph and as the power demand needle buries itself in the right-hand side of the gauge the iMiEV surges forward in a manner that can easily catch you unaware.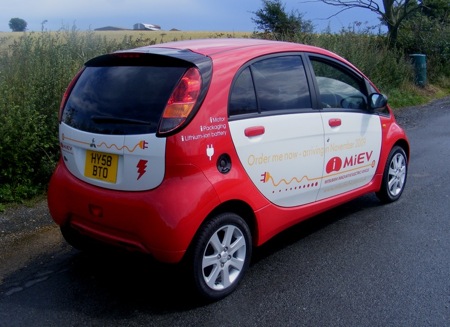 Sprightly mover
Officially, the iMiEV's top speed is 81mph but proving that on the open road would obviously be illegal so lets just say it gets to the motorway speed limit – and stays there - with ease, and leave it at that.