World's first electric Chopper parks up
From Easy Rider to Smart Chopper
Leccy Tech A group of tattooed and portly custom Chopper builders from New York State and a straight-laced electronics firm make for an odd pair. But they are the duo behind Smart Chopper - an extreme leccy bike.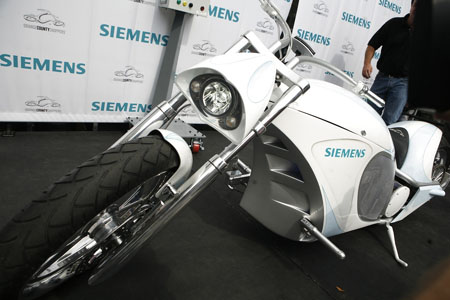 Smart Chopper: mean and green
Brainchild of Siemens USA and the folks at Orange County Choppers (OCC) – stars of reality TV show American Chopper - the Smart Chopper's electronic parts were developed to showcase Siemens' latest in e-vehicle technology.
The bike's development also helps remind the world that Siemens still has its finger on the environmental pulse, of course.
Powered by a 20kW (27bhp) electric motor, Siemens said the 350lb (160kg) Smart Chopper has a range of 60 miles and top speed of 100mph.
It takes five hours to fully charge the bike's battery using a 110V outlet. There's no word yet on battery capacity, but those figures hint at something in the region of 8kWh.
A single-speed clutchless transmission drives power from the bike's motor to the macadam, Siemens added.
Smart Chopper screams OCC styling - with swooping lines, a 120in wheelbase, a 10.5in-wide rear tyre and front forks raked at a 45° angle.
The bike's funky LED head and tail lamps are apparently courtesy of Siemen's Osram Sylvania lighting division.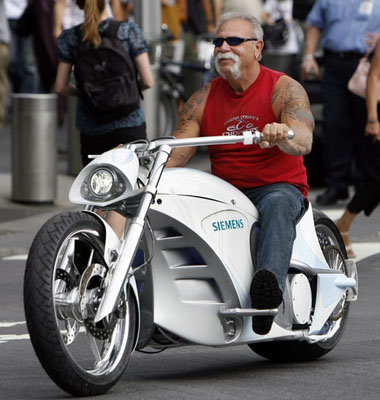 The bike will be sold off for charity next year
In true rocker/biker style, Smart Chopper will spend the next 12 months on a promotional tour of North America. It will then be auctioned off, with the proceeds going to charity.
The successful bidder will secure themselves a truly unique machine, as neither Siemens nor OCC have any plans to manufacture the bike on a commercial scale.
It's also worth tuning yourself into the next series of American Chopper – due to air in October – because Smart Chopper's development will be featured in the programme. ®