The inventor of a potentially revolutionary super-quiet "flying taxi" has died in a crash while test-flying his prototype in Malaysia.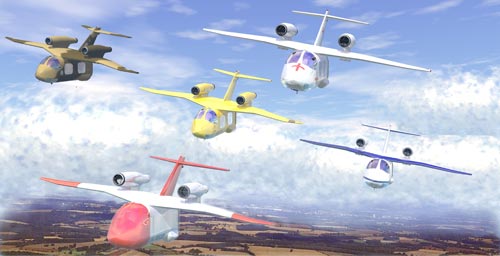 Any colour you like.
Michael Dacre, MD of British-headquartered Avcen, was at the controls of a "Jetpod" aircraft at Tekah airstrip near Taiping when it crashed shortly after takeoff yesterday. Mr Dacre reportedly suffered severe burns and injuries and died at the scene. He was said to have been the only person aboard the aircraft and no-one else was hurt in the incident.
The Jetpod was intended to initiate a new class of Very Quiet Short Takeoff and Landing (VQSTOL) aeroplanes, able to get airborne after a run of just 125m while making no more noise than city traffic, then make a low-level flight at speeds greater than 300mph. Mr Dacre believed that it would thus be possible to offer rapid short-hop transits in and around major urban areas for comparatively modest fees - perhaps as little as £50 for a four-minute trip to or from places such as Woking to central London.
The six-seater Jetpod design featured small jet engines mounted above the wing to reduce noise. Some of the engine exhaust could be directed downward by special flaps, so allowing the little craft to get airborne fast.
Mr Dacre liked to characterise the design as a "flying taxi", but didn't care for the term "flying car" - he informed the Reg in 2005 that "the aircraft is not at all a car". This stance may have been motivated by the reflexive and mostly poorly-informed hostility towards the term "flying car" which has come to permeate much of the internet hive-mind in recent times. ®