Psystar is vigorously defending itself against Apple's latest charge that the Florida Hackintosher has destroyed documents relevant to the two companies' ongoing legal brawl.
"Psystar has not destroyed documents," Kiwi Camara of Camara and Sibley, Psystar's recently retained lawyers, bluntly told The Reg.
Apple says they did. In a letter filed with the US District Court of Northern California last week, Apple was equally blunt. "Defendant, Psystar Corporation," it reads, "has destroyed relevant evidence that it was legally required to preserve."
Although the letter goes on to enumerate the destroyed evidence, large chunks of it are blacked out, presumably to protect Apple's trade secrets. Apple alleges Psystar has overwritten earlier versions of its code before Apple had a chance to examine them, deleted or lost relevant emails, and failed to satisfy "other deficiencies in... document production."
The letter requests that the court order Psystar to produce the code described in the blacked-out sections. If they fail to do so: "Apple requests that the Court issue and order: (1) requiring Psystyar - under penalty of perjury - to admit that it has destroyed documents and (2) making a factual finding that prior versions of Psystar's software included [blacked out text] and were destroyed by Psystar."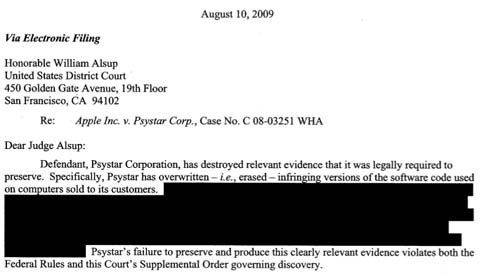 Exactly what was in that allegedly erased code, we may never know
Psystar has taken its own potshot at Cupertino, as well. In a posting on the company's community blog entitled A taste of their own medicine, the Hackintosher invites its supporters to suggest questions to ask the nine Apple execs whom the company will depose for the trial.
The Floridians are apparently quite happy that they're readying the depositions. "After numerous depositions of Psystar employees and associates the shoe is finally on the other foot," the posting reads, "oh the joy!"
And the list of Cupertinians who will be required to squirm under Camara and Sibley's questioning is an impressive one. Among the nine are senior vice president of worldwide marketing Phil Schiller, SVP of Mac hardware engineering Bob Mansfield, and vice president of finance and worldwide business management Mark Donnelly.
When The Reg asked Psystar lawyer Camara why the company was soliciting questions for the deposition from its supporters, Camara replied: "Psystar has nothing to hide in this litigation," adding that: "We welcome the public's input and participation in our case."
Camara also told us that from his point of view, the case has ramifications beyond one underdog Hackintosher in Doral, Florida. "This case is about issues," Camara said, "the enforceability of EULA's [end-user's license agreement], the scope of the interoperability exception to the DMCA [Digital Millennium Copyright Act], the scope of section 117 and the First-Sale Doctrine," concluding that the issues at question are "much broader than Psystar's particular business."
The case is scheduled to go to trial on January 11, 2010 in San Francisco. We expect that there will be plenty of maneuvering before that date. According to Camara: "Psystar plans to do its best to keep the public and the industry informed about the important legal issues being decided."
Apple, as is its habit, will likely make its positions known only through court filings. Although, as Phil Schiller's recent emails to a concerned developer and blogger about App Store tribulations, perhaps Cupertino's veil of secrecy might part a wee bit in this case, as well.
But we'd advise against holding your breath. ®
Sponsored: Practical tips for Office 365 tenant-to-tenant migration