One point to note is that the SSD drive produces extremely strong performance that disproportionately boosts the laptop's overall rating in both PCMark05 on Windows and Xbench on OS X. The SSD drive certainly helps with tasks such as opening large video files in iMovie, but it doesn't provide much benefit for more routine tasks such as surfing the web or using Microsoft Office.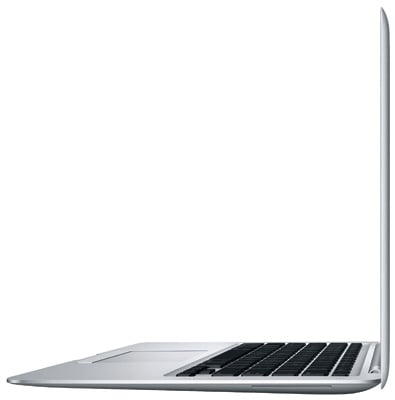 No internal optical drive, but CD/DVD drives from other machines can be accessed
Battery life has improved too. The battery is sealed-in and non-replaceable, so you can't swap it for a replacement on a long plane-flight. However, the MacBook Air now uses the same Apple-designed lithium-polymer battery as the MacBook Pro range and managed to last for just five minutes short of three hours when looping PCMark05 continuously.
Switching back to OS X, we got almost exactly three hours and 30 minutes of video playback using an H.264 file stored on the SSD drive, and you should be able to beat four hours quite comfortably for lighter tasks such as typing away in Word. We were also pleased to see – or rather, hear – that the laptop remained very quiet at all times during use. The base of the unit does get a bit warm at times, but never got too hot to rest on our lap.
Mind you, there are other aspects of the MacBook Air's design that remain as infuriating as ever. Some people might consider the non-replaceable battery to be a deal-breaker, but in daily use we found ourselves more annoyed by the single USB port and lack of Ethernet, the latter being available as a USB adapter option. And, of course, anyone that's got a Firewire camcorder or hard disk is left in the lurch by the omission of Firewire too.
And while we understand the decision to omit a built-in optical drive in order to reduce weight, Apple offers an optional external USB SuperDrive unit for an additional £64, if you really need it. Although we have successfully hooked up other optical drives with the Air, Apple offers a facility to install software over your network using the CD/DVD drive from another computer running Remote Disc for Mac or Windows.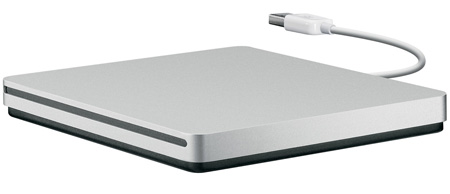 Optical extra: Apple's SuperDrive USB external DVD writer
Appearing as a disc in the Air's volume listings, drive sharing is technically ingenious and relatively easy to use. Still, when we needed to do a clean install of OS X for our tests and then install the bundled iLife suite and MS Office, we simply wanted to slap in the disks and get going straight away. There's another big limitation here, as it appears an external drive is necessary with Boot Camp to install Windows on the MacBook Air.