This article is more than 1 year old
DIY GSM network is go
A Blue Peter badge for Hackers At Random
Delegates attending the Hacking At Random conference managed to string together their own GSM network, demonstrating just how ubiquitous, and modular, mobile telephony has become.
The network runs from antennae slung from a tree and connected to a PC running OpenBSC, a GPL-licensed free network infrastructure stack incorporating an HLR as well as base station software. With such thrown-together hardware the hackers have, for the last few days, been running a 2G GSM network at 900MHz, under a test licence from the Dutch regulator.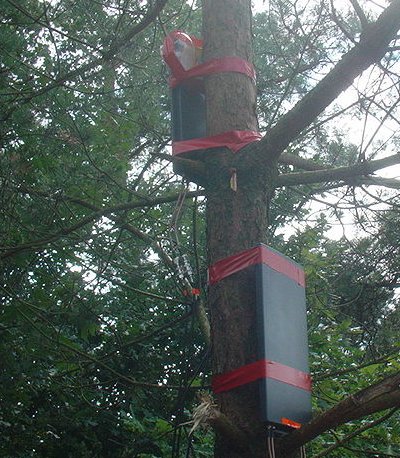 An easier version of Spot the Base Station
Without interconnectivity to the rest of the world the network is obviously of limited value for placing calls, but provided a base for those interested in playing around with radio networks as well as demonstrating just how quickly and cheaply a GSM network can be built these days.
Last year's Burning Man festival also managed to host a GSM network - available to a limited selection of subscribers. That project estimated the cost of radio equipment, at around $4,500 including converting calls to VoIP for routing over Wi-Fi. The Hacking At Random crowd didn't convert to VoIP, but they spent a lot less money too.
Projects like this demonstrate just how rapidly GSM could be deployed into a disaster area to provide coverage, even if the network operators weren't around to help. Of course, deploying such a thing without a licence would be illegal, and hard to conceal, but it's equally obvious that such things will inevitably happen. ®