This article is more than 1 year old
Intel X25-M 34nm Flash SSD
The chip giant's second-gen solid-state drive
Active power consumption remains unchanged at 150mW, while idle power consumption rises slightly, from 60mW to 75mW.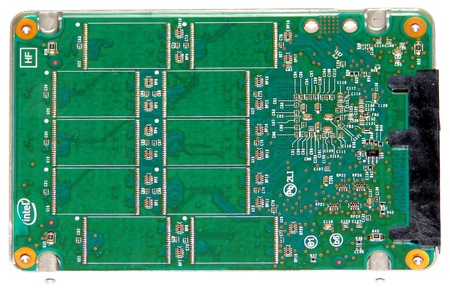 This time the back of the board is empty... how long before a 320GB drive appears?
The major change that results in the change in fabrication process is a reduction in production cost which, in turn, leads to lower retail prices. When Intel launched the 1G drives, the prices were $595/£399 for the 80GB model and $945/£799 for the 160GB version. When the competition started to pile into the SSD market with drives that used controllers from Indilinx, JMicron and Samsung, we saw Intel's prices drop to $390/£207 and $765/£506, respectively.
The 2G drives are priced significantly lower: $225/£172 for the 80GB and $440/£334 for the 160GB.
You can't compare the price of Intel SSDs with the other manufacturers' offerings directly as the storage capacities differ. Intel offers 80GB and 160GB, while Samsung has 128GB and 256GB drives, and the memory companies round off the capacities to 120GB and 250GB.
If we look at the cost per gigabyte, the Intel drives started at £5 per GB which was reduced to £2.59 per GB and £3.16 per GB when the 1G drives had their price cuts. With 2G, those prices come down to £2.15 per GB (80GB) and £2.09 per GB (160GB) which is very similar to the competition and it puts the Intel, Indilinx and Samsung controllers on an even footing.
Externally, the 2G Intel drive has undergone a few changes. The casing has changed in colour from black to silver, and the drive has been slimmed down from 9mm to 6.5mm so it can fit in any laptop drive bay. Intel supplies a plastic spacer that can be attached to ensure the drive fits snugly in a larger bay.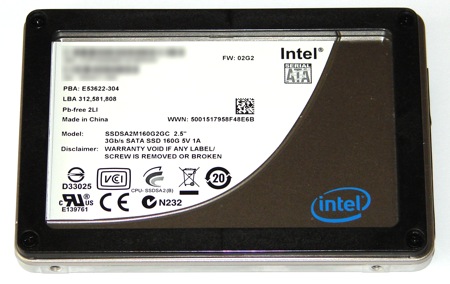 Intel includes a spacer for bigger drive bays
In the past, we've reviewed the 80GB X25-M and now with 2G we have finally got our hands on a 160GB drive with pre-release 2CV102G2 firmware. We tested the 2G alongside the 80GB X25-M and a 128GB Patriot Torqx which has an Indilinx controller. All three were fitted into a Core i7 system using 32-bit Windows Vista Ultimate Edition.