This article is more than 1 year old
Intel X25-M 34nm Flash SSD
The chip giant's second-gen solid-state drive
There's no doubt that the performance of the 2G drive has perked up compared to 1G. This is particularly clear when you look at the write performance in HDTach 3 and CrystalDiskMark 2.2 where it used to come in at 70-75MB/s. Write speed has perked up to 100MB/s which is a useful increase. However, it's still a long way shy of the Torqx, which clocks more than 170MB/s.
HDTach Results
Average Data Transfer Speeds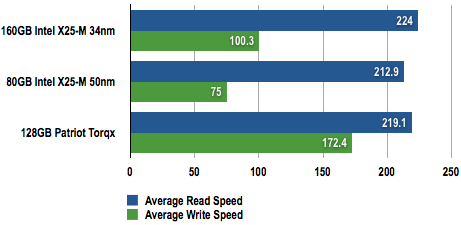 Data Throughput in Megabytes per Second (MB/s)
Longer bars are better
CrystalDiskMark 2.2 Results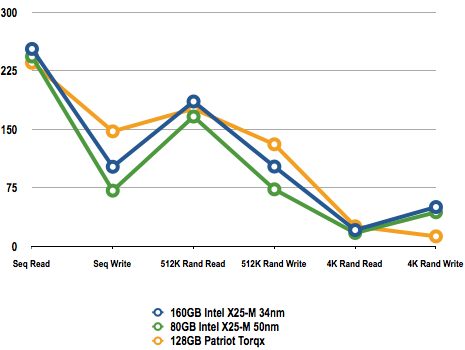 Data Throughput in Megabytes per Second (MB/s)
Higher points are better
Those synthetic benchmarks emphasise differences that you can see in real-world tests and in particular when you copy files on the drive. The 1G Intel does quite poorly in this type of file transfer test, but the 2G is much faster and is nearly on an equal footing with the Torqx.
The third group of tests involves the transfer of 2GB of files from one drive to another. When we moved files between the Torqx and the two Intel drives, it was clear that the 2G drive wins out over the 1G in all departments.
2GB File Transfer Results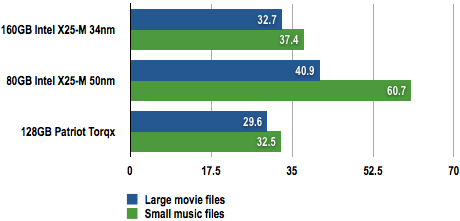 Transfer time in Seconds (s)
Shorter bars are better