This article is more than 1 year old
Virgin hijacks empty pages
All your void are belong to us
Updated Virgin broadband has started serving up advertising, instead of empty pages, when the domain you were looking for turns out not to be there.
Users of Virgin's Broadband service have started seeing Virgin's "Advanced Network Error Search" instead of the traditional Server Not Found error when they enter a URL that doesn't exist. This provides an opportunity for Virgin to cram in some advertising, in a development that should worry anyone hoping that web browsers don't represent the final stage of internet evolution.
The trick isn't new: Comcast, Verizon and several other US ISPs already insert their own messages when users try to contact a non-existent server. But it's the first time we've seen it on this side of the pond, and while most users might not care if they get an error message or targeted advertising, it does upset the robots.
The process takes place as part of the Domain Name Service (DNS) lookup: in the usual course of things the user types "www.theregister.com" and the DNS returns "212.100.234.54", but if the user types "www.nottheregister.co.uk" then the DNS returns an error and the user's browser passes on that information: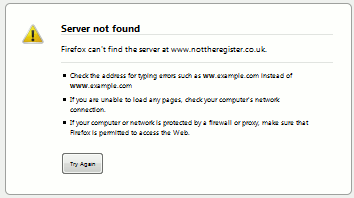 But the DNS can, instead, return the address of an advertising service branded help page which the browser displays as though it were a valid site: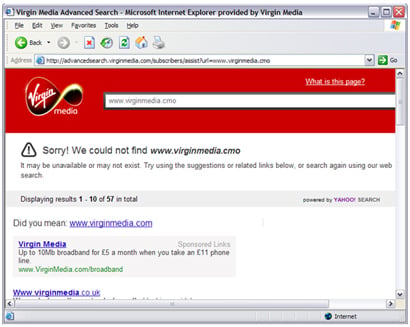 Notice the cunningly-targeted, and sponsored, advertisements in this example.
The problem comes with software which wants to check if a domain is valid, or intends to process the returned page in some way and is prepared to deal with an error - with this kind of response no error is ever generated so the software has no way of telling if the domain was valid. Modern browsers, for example, offer to auto-complete pages you've visited before, if they were valid, but now the browser has no way of detecting if you were typing with two thumbs again.
Virgin has provided an FAQ which nicely overstates the problem with an Internet Explorer version 6 screen shot while claiming that the advertising links are there to help users find what they were looking for. The FAQ also contains details of how to opt out of the process.
This isn't a new thing, and once users get used to it the practice will probably spread to other ISPs who are equally desperate to find a revenue stream in these challenging times - it will make developing automatic applications more difficult, and we're not looking forward to our browsers helpfully offering to auto-complete every typo we've ever made. ®
Update: It's been pointed out that Virgin isn't alone in hijacking DNS errors in Europe, just the latest ISP to adopt this particular money-making scheme which is spreading with surprising speed.