This article is more than 1 year old
BMW's X6 turns eco
ActiveHybrid X6 unveiled
Leccy Tech BMW's X6 is about to be re-born as an environmentally considerate hybrid.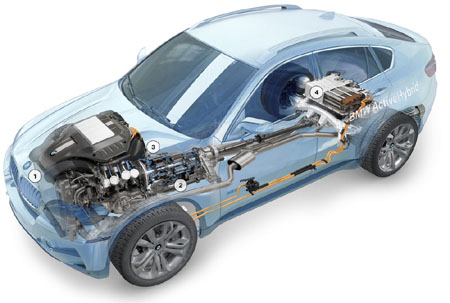 BMW's X6 ActiveHybrid: slightly more eco-friendly than the X6
Set for official unveiling at the Frankfurt Motor Show next month, the X6 ActiveHybrid retains the original model's 400bhp, twin-turbocharged 4.4l V8 engine – yet gains two electric motors.
This dual-motor hybrid powertrain, developed in partnership with General Motors and DaimlerChrysler, allows one of the eco X6's leccy motors to deliver 91bhp (68kW) and the other 86bhp (64kW).
Use of two electric motors and a 2.4kWh NiMH battery pack apparently improves fuel consumption by 20 per cent, from the original X6's wretched average of 18 miles per US gallon to a slightly less wretched 22mpg average.
But don't worry about getting home if you run out of fuel - the X6 ActiveHybrid can travel a whopping 1.6 miles at 37mph (60kph) using nothing but battery power.
Admittedly, the new X6 does rather better than the original X6 when it comes to CO2 emissions. They have dropped from 299g/km to 231g/km.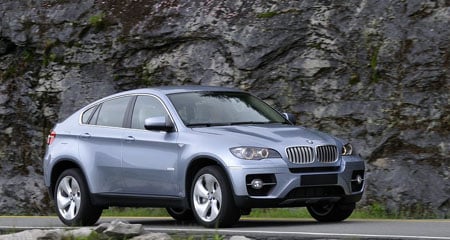 The X6 ActiveHybrid can travel 1.6 miles at 37mph on battery power alone. Whoa there...
All those figures combined make the X6 ActiveHybrid the most powerful hybrid car in the world, at least according to BMW.
The car maker's given the eco X6 an electronically limited top speed of 130mph and a 0-62mph flatline of 5.4 seconds.
BMW has also added a "Powerdome" to the eco X6's bonnet, which is designed to try and scare petrolheads off of the road by highlighting the resting place of the car's hybrid-related electronic gubbins.
Since the X6 hybrid will be produced alongside the X5 at BMW's factory in South Carolina, there is every chance it won't make it to this side of the pond in right-hand drive form.
Potential North American buyers will be able to take the X6 ActiveHybrid for a spin later this year, though, with the car set to cost somewhere north of $70,000 (£42,300/€49,300). ®