Asus laptops were the most reliable notebook computers during Q2, US repair specialist has claimed. Apple came second, Lenovo third.
The three manufacturers scored 416, 394 and 314, respectively, on Rescuecom's reliability index. Fourth-placed Toshiba scored 218. HP, which came in fifth place, rated 142 points.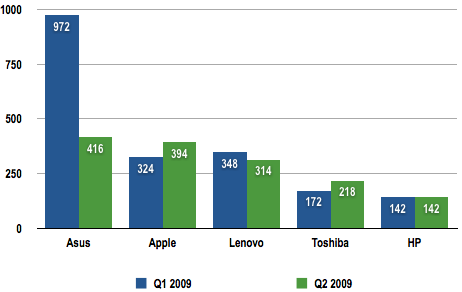 Source: Rescuecom
Rescuecom's numbers are derived from the number of support and repair calls it receives - some 11,560 in all across the quarter, a reasonable statistical sample size even if well below the number of personal computers shipped in the US in the same period.
The company factors in the number of computers shipped from a particular supplier to ensure best-selling vendors don't appear less reliable simply because more customers means more support calls.

Market share data source: IDC
Asus did rather less well than it did in the previous quarter, but its Q1 score was due to exceptionally small number of Asus owners among Rescuecom's customer base. That figure has increased, yielding a rating more directly comparable to other scores.
The higher the reliability score, the less likely it is that a machine bought from a given brand will need repair. ®