This article is more than 1 year old
Fisker e-sportster debuts on infamous Laguna Seca circuit
Behind-the-wheel footage released
Leccy Tech The Fisker Karma plug-in hybrid has made its public driving debut at the annual Rolex Monterey Historic Automobile Races - barely a year and a half after first being unveiled as a concept.
With Fisker chairman Bernhard Koehler behind the wheel, the Karma completed a single lap of the infamous Laguna Seca race circuit in California achieving speeds of over 100mph using just its battery pack.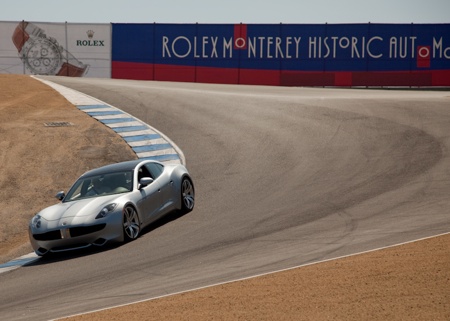 Fisker's Karma: 18 months ago this was a concept
Like the Chevrolet Volt, the Karma is a plug-in range-extended hybrid capable of travelling around 50 miles on the charge stored in its lithium-ion battery pack before the 260bhp 2.0l turbocharged four-cylinder petrol engine kicks in to run the generator that powers the car's two 201bhp (150kW) electric motors and re-charge the battery.
Fisker reckons the car will hit 125mph at full chat and get to 60 in under six seconds.
Fisker kindly screwed a camera to the car's dash to record the lap for posterity and to let us all see Koehler enter the fearsome Turn 8 corkscrew in manner that can only be described as sedate.
Can't see the video? Download Flash Player from Adobe.com
The four-door Karma saloon is due to go on sale in the US in early 2010 with a price tag of $87,900 (£53,440/€62,382). The two-door convertible 'Sunset' model will follow some six months later and cost rather more. ®