This article is more than 1 year old
Samsung S8000 Jet
Pokey processor eclipsed by user friendliness?
Review The main selling point for the Samsung S8000 Jet isn't its OLED screen, or its 5Mp camera, or even its sleek and compact good looks. For this model, Samsung is highlighting a major element of the modern multimedia phone that often gets overlooked – the processor. The Samsung S8000 Jet comes with an industry-leading 800MHz processor – more powerful even than those on the big smartphones – which should make everything about it run faster and smoother.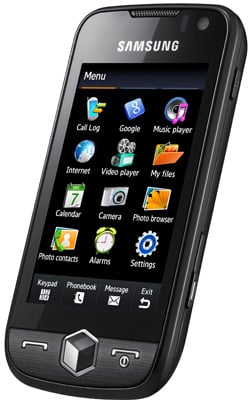 Samsung's S8000 Jet: it's all about the processor
Appearance hasn't been overlooked either, as the Samsung S8000 Jet has a sleek, compact look and at 109 x 54 x 12mm and 110g it's really quite a petite slip of a thing. However, in the hand it feels a little cheap and plasticky to be honest, and though we wouldn't necessarily hold that against it if the specs are up to scratch, we know many prefer something that feels more substantial in exchange for your hard-earned.
The 3.1in active-matrix OLED touchscreen takes up most of the real estate on the front and it is eye-searingly beautiful, with an extremely sharp 480 x 800 resolution. Above it are 0.3Mp camera for video calls, light sensor and loudspeaker, while the space below is taken up with call start and stop buttons and a hexagonal navpad.
On the sides are a volume rocker and lanyard hook, screen lock button, camera shutter button and a menu button, while on top are the micro USB slot covered by a plastic grommet and 3.5mm headphone jack. Around the back is the camera lens (uncovered) and twin-LED flash. It also has a classy-looking prismatic finish, that flashes when the light catches it.
The screen is resistive rather than capacitive. While it may be a little more sensitive than previous examples we've seen from Samsung – which have suffered a little in requiring several pushes or brushes to take effect – it's still not up there with the likes of the iPhone and HTC's offerings yet.

Reet petite
This latest version of Samsung's TouchWiz user interface offers three home screens that you brush sideways to access. Each has a different wallpaper and set of widgets to choose from, and you can customise them to bring your favourite functions to the fore. Fortunately, you can also double up on widgets, having the same one on different screens, which wasn't possible previously.