Analysis Sony has said its ebooks will henceforth be supplied solely in ePub format, creating a duopoly with Amazon's Kindle platform.
Sony's endorsement of ePub gives the format a welcome breath of life, but its decision to mandate Adobe's Content Server is more interesting; the combination challenges Amazon's Kindle and could lead to a duopoly of providers protecting content in an industry more interested in middle-aged housewives than early-adopting IT professionals.
There is a myriad of ebook formats - 26 listed in Wikipedia - with varying capabilities but generally focused on creating works that can be somewhat reformatted to suit the device being used to read them. This contrasts with PDF documents, which mandate the whole layout (WYSIWOG - What You See Is What Others Get - as Adobe used to term it).
Sony's strategy is to use a combination of ePub and PDF: the latter in situations where changing the layout is too important to change, such as comics or some technical manuals, and the former for everything else including the eBooks on sale from the Sony Store.
But it's a strategy inspired by Adobe: ePub is managed by the International Digital Publishing Forum, an organisation whose only employee was snapped up by Adobe back in September 2007 when Adobe announced its full support for the standard. Since then a new employee has been found, and various publishers and content producers have signed up to endorse the standard which looks set to dominate pretty quickly - alongside PDF - with Adobe pushing for either format to be combined with its Content Server 4 to provide the combination of text format and digital rights management that's considered essential to the success of electronic publishing.
All this sidelines the already-popular Mobipocket format, which combines formatting and DRM in its own ".mobi" files, and allows users to copy content between devices as well as buying it from a variety of sources. But Mobipocket is owned by Amazon these days and has been withering slowly as the new owner focuses on shifting Kindle from a piece of hardware into a software platform, and it surely won't be long before Mobipocket is merged into something firmly locked to the Amazon store.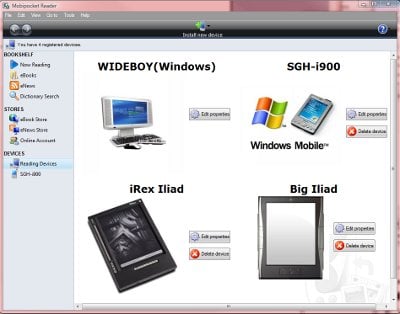 The Kindle platform also embodies both content and rights management, including the more controversial ability to retrospectively rescind those rights as spectacularly demonstrated by its recent withdrawal of electronic copies of George Orwell's Nineteen Eighty-Four. Kindle also operates as an extension to Amazon's book store, ensuring revenue for generations to come - but DRM isn't just about protecting revenue streams, it also protects the industry itself, though it may not always be clear why the publishing business feel it necessary to impose restrictions that proved so unpalatable to music fans.
Part of the problem with literary piracy is the inability of authors to make money elsewhere: personal appearances don't often pay, and many authors don't perform well in public. Selling posters, t-shirts or branded towels isn't going to work for many, so authors are denied alternative sources of revenue that arguably exist for musicians.