This article is more than 1 year old
Panasonic Lumix DMC-TZ7
Compact super-zoom with HD video
Review Panasonic's DMC-TZ7 has been around for a while now, although the company maintains it in its current range. It's not surprising, because it's one of the few compact super-zooms on the market that includes HD recording – its closest rival is Canon's PowerShot SX200 IS.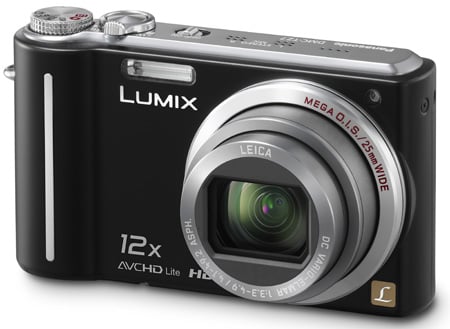 Panasonic's Lumix DMC-TZ7
The DMC-TZ7 is what you might call a travel-cam or a holiday-cam. It's a digital compact with an extended zoom, in this case, a 12x optical zoom in the shape of a 4.1-49.2mm f/3.3-4.9 Leica DC Vario-Elmar lens, offering the equivalent range of 25-300mm on a 35mm camera. The PowerShot SX200 IS has a longer telephoto offering – equivalent to 28-336mm- but we think the DMC-TZ7's wide angle lens will prove more useful for most photographers.
It also has a 1/2.33-inch CCD comprised of 12.7 megapixels, but only offers 10.1 effective megapixels. The reason is that the DMC-TZ7 offers three aspect ratios – 4:3, 3:2 and 16:9, and it uses the additional pixels to leave the angle of view unchanged, whatever aspect ratio you are shooting in. There's even a multi-aspect mode that lets you shoot the same image in three different aspect ratios with just a single press of the shutter.
The DMC-TZ7's HD recording has a choice of recording formats. There's AVCHD Lite, a format developed by Panasonic and Sony, and Motion JPEG, but why the choice? Well, leaving aside Panasonic's desire to promote its own HD format, it leaves you with the choice of capacity over convenience. AVCHD Lite is a more efficient codec than MJPEG: a 20 second 720p recording requires a file size of around 75MB for MJPEG compared with 43MB for AVCHD Lite.
The snag is that, not many media players or video editing packages are compatible with AVCHD Lite's .MTS file format, whereas MJPEG is widely supported. The DMC-TZ7 comes bundled with PhotofunStudio software that will playback AVCHD clips and even includes some basic editing tools. In terms of HD performance, both MJPEG and AVCHD Lite offer 720p resolution at 30fps, although Motion JPEG also includes options for WVGA, VGA and QVGA resolutions.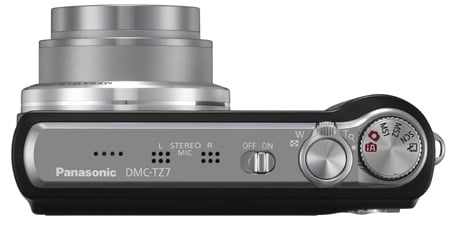 Stereo mics are a nice touch, but the soundfield separation isn't great
AVCHD is fixed at 720p, although you can toggle between 9, 13 and 17Mbps bit rate settings. MJPEG clips are limited to a 2GB maximum file size, while AVCHD is unlimited. In practice though, you are limited to 15 minutes maximum recording time, to ensure that the DMC-TZ7 doesn't fall foul of EU camcorder tariffs.