This article is more than 1 year old
Panasonic Lumix DMC-TZ7
Compact super-zoom with HD video
Normal mode offers much more scope for user control, such as adjusting white balance, ISO and metering mode. There's no way of manually adjusting aperture or shutter speed, although you can specify a minimum shutter speed, ranging from one second to 1/125sec. Other shooting modes include Scene, My Scene 1 and My Scene 2 - these let you assign two favourite scenes, plus clipboard for recording maps and documents.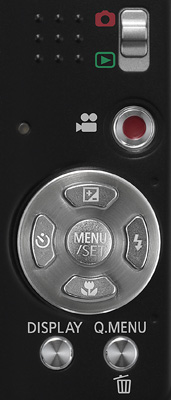 Uncomplicated controls will allow novices to get shooting swiftly
But what about the movie mode, we hear you ask? Well, Panasonic has given the DMC-TZ7 a dedicated movie record button, located to the far right of the LCD screen. The neat thing about this is that you can instantly go into movie recording, whatever shooting mode you're in. It's also less confusing than some shutter activated movie recording systems we've used. Not so neat is the mode dial, which, on our sample, was loose and easily shifted out of position. If the DMC-TZ7 is in a bag or a pocket, it's almost certain that the mode dial will have moved.
The DMC-TZ7 has a tabbed main menu system, which uses a mixture of text and graphics. Select AF mode, for example, and you are presented with six obscure icons, but no text description on what each one does. Fortunately, the camera features a very good Quick Menu system. Just press the Q Menu button and you can scroll across a horizontal menu in which each parameter offers you a vertical list of icons to select.
As you scroll across each icon, a text description appears at the bottom of the screen. What's also nice is that the menu recalls your last setting. With adjustments, such as changing ISO speed from 100 to 400 for a single shot, can easily be reverted to your original setting. What's more, the last setting is stored when you switch off the camera. Although we wish Panasonic had included an optical viewfinder for taking shots at the extreme end of the telephoto, the LCD screen is one of the best we've seen, large, bright, clear and sharp.
So what about performance? In a word: impressive. Colour, contrast, exposure and resolution are very good indeed. Noise levels below ISO 400 are low. The lens is also high quality, offering little distortion at both ends of the zoom.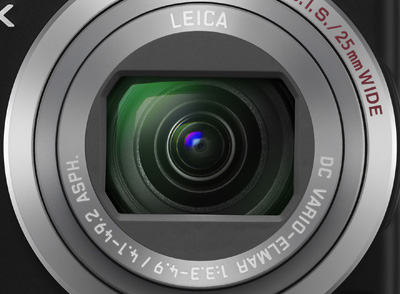 That extra bit of wide angle view can make all the difference for the architectural tourist
The 25mm wide angle lens was great for pulling in a little extra side information. Face Recognition worked a treat, and the image stabilisation system did a superb job in keeping shots steady and the AF system was fast and responsive. AF tracking lets you lock onto a subject without having to partly depress the shutter, and works well.