This article is more than 1 year old
Tearaways deface Tayside Police website
Wee security snafu down Dundee way
Tayside Police have restored their website following an embarrassing defacement late last week.
Surfers visiting the site from late afternoon on Thursday were confronted by a defacement, claimed in the name of Scottish comedian Frankie Boyle, and accompanied by notes more in the style of Irvine Welsh than Jim Taggart.
The text included in the defacement suggests the site - tayside.police.uk - was compromised via poor password security, though this remains unconfirmed.
The hack was recorded by defacement archive Zone-h here.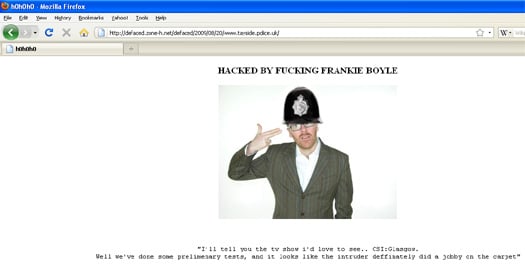 Dundee polis pwned
Defacement of a website is the online equivalent of spraying graffiti and rarely carries more serious implications. As well as an unusual amount of technical detail, the defacement contains a joke that wouldn't be too out of place on the Edinburgh Festival Fringe.
"I'll tell you the tv show i'd love to see.. CSI:Glasgow.

Well we've done some prelimenary tests, and it looks like the intruder deffinately did a jobby on the carpet"
Alongside the usual greeting to fellow defacement crews the text goes on to say that the site was hacked by "the paisley young team" who have "more asbos than yer maw!".
Tayside Police is the website for police in Dundee, Perth and Kinross, and surrounding areas. Netcraft reports that the tayside.police.uk site runs using Apache on a Linux platform. ®