Comedian Dan Antopolski has secured the 2009 top Fringe gag crown for entertaining Edinburgh Festival crowds with: "Hedgehogs. Why can't they just share the hedge?"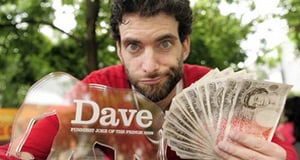 Antopolski (pictured) topped a Dave TV poll featuring top quips from the festival selected by a panel of "nine of the UK's leading comedy critics". Having trousered a cash reward and trophy with almost 18 per cent of the popular vote, he said: "I'm delighted to get the prize. Although I have won things before at the fringe, this definitely means the most to me and that it should unite my loves of hedgehogs, comedy and Dave makes this prize very special."
The runner-up was Paddy Lennox, who observed: "I was watching the London Marathon and saw one runner dressed as a chicken and another runner dressed as an egg. I thought: 'This could be interesting.'"
In third place was Sarah Millican, who offered: "I had my boobs measured and bought a new bra. Now I call them Joe Cocker and Jennifer Warnes because they're up where they belong."
Zoe Lyons was honoured in fourth spot for "I went on a girl's night out recently. The invitation said 'dress to kill.' I went as Rose West," while Jack Whitehall was fifth with "I'm sure wherever my dad is, he's looking down on us. He's not dead. Just very condescending."
And, for the fanboys among you, Marcus Brigstocke slipped into the top ten in seventh place by noting: "To the people who've got iPhones: you just bought one, you didn't invent it!"
Of course, you'll be wondering just what the unwashed masses thought was the worst joke at this year's Fringe. Step up to the podium please Carey Marx, who ill-advisedly uttered: "I'm not doing any Michael Jackson jokes, because they always involve puns about his songs. And that's bad".
There's more of this tomfoolery right here. ®